10 Problems with the Datamaster DUI Breath Test Machine
Every human being is different. No one is perfectly average in every way. People differ in their health in countless ways, but the Datamaster DMT DUI breath test machine assumes each breath sample is given by a subject who has certain physical characteristics. No one has all the characteristics and therefore, the breath alcohol measurement is necessarily inaccurate to some degree.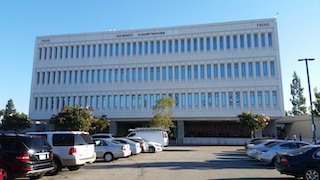 Downey Courthouse
The big question is how inaccurate is it and can the measurement be regarded (or disregarded) as inaccurate and not meaningful. To answer this question, one should understand at least the following ten problems with the Datamaster DMT breath test machine:
Hypoglycemia – Low blood sugar, or hypoglycemia, is a condition that occurs in diabetics. About one in seven people are diabetic, but far less than this know they are diabetic. Hypoglycemia creates acetone in the breath, which the Datamaster DMT falsely measures as consumed alcohol.
Endogenous Ethanol Production – Everyone produces their own supply of alcohol on a continuous basis, constantly (seven days per week, 24 hours per day). It is called endogenous ethanol production and some people produce enough to be considered intoxicated according to measurements of this by a Datamaster DMT machine.
Abnormal Hematocrit – The Datamaster DMT assumes a hematocrit of 47%. This is the ratio of red blood cells to the total volume of blood. For men, hematocrit values vary from 42% to 52% and in women from 37% to 47%. If one is anemic, his or her hematocrit will be lower than average and, consequently, the Datamaster DMT will show a falsely high BAC reading. Almost all women will have a falsely high reading unless they have an unusually high hematocrit and most endurance athletes (i.e. runners) are slightly anemic, so their BAC will register as falsely high.
Breath Temperature – if someone has a fever, their breath temperature will be high and their BAC will register as falsely high. Conversely, if one is particularly cold, their breath temperature will be lower and their BAC will be falsely low.
Breathing Pattern – The Datamaster DMT is designed to measure alcohol content in alveolar air from deep in the lungs, near where the blood releases ethanol into the lungs. It someone is not breathing out deep lung air, their alcohol content in their lungs will be lower than alveolar air. The first part of one's breath is air that is not directly from the deep lungs, so it is of lower alcohol content, whereas the last part of one's breath usually is more air from deep in the lungs. In fact, the last part of one's breath can be 50% higher in alcohol content than one's actual BAC. This is often why police officer exhort suspects to keep blowing on a breath test machine, so that the higher-alcohol content air can be measured to justify the arrest.
Gastroesophageal Reflux Disease (GERD) – The Datamaster DMT is designed to test air from the lungs and assumes that the air is from the lungs. Someone with GERD, or heartburn (or acid reflux), exhales stomach acid containing alcohol from the stomach and not the lungs. The Datamaster DMT then measures this air mixed with air from the lungs and registers a far higher blood alcohol content than is in the suspect's blood. Those people suffering from GERD can have a BAC of up to 0.05% higher registered than what their BAC is in their blood.
Radio-Frequency Interference – Radio frequencies can cause the Datamaster DMT to measure a higher BAC than the suspect's actual BAC. This can be caused by the officer or another officer nearby using his or her cellphone or his or her radio. The Datamaster DMT is supposed to detect such interference and display an alert to the operator that there is radio frequency interference affecting the machine. In response, the operator is supposed to remove his or her cell phone or radio to eliminate the problem, but we find officers usually do not and just run the test again.
Barometric Pressure – The Datamaster DMT assumes a certain atmospheric pressure to apply the partition ratio or 2100: 1, so if there is a storm coming through with dropping atmospheric pressure, the BAC readings will be higher than what one's actual blood alcohol content is. Likewise, at a higher altitude, the Datamaster DMT will register a higher-than accurate BAC reading.
Operator Error / Maintenance Issues – Often the police officer using the machine does not observe the suspect for a full fifteen minutes prior to the test or does not check the suspect's mouth prior to the test (one time, our client had false teeth, which are supposed to be removed). Other times, the machine is not properly inspected or calibrated when scheduled. A good hint that this is so is when the police fail to adjust the time of day on the machine after daylight saving time starts or ends.
Problems with Simulator Solutions – The Datamaster DMT uses solutions of water and alcohol during the test. If the calibration of the machine is not based on a proper solution, the measurements later for an actual breath sample from a suspected DUI driver will be inaccurate. One can detect this problem by looking at the calibration logs for the machine in question.
For more information about DUI breath test issues, please click on the following articles:

Contact us.