Wilmington, Neighbor's Order Denied Against Our Client
Our client and his neighbor had garages that faced each other such that when one neighbor backed out of his garage, he or she had to be careful not to bump the other neighbor's garage door. The distance between the two garage doors was about thirty feet.
Several times, our client's neighbor did bump into our client's garage door or the garage door frame, damaging it with her car. Our client asked the neighbor to fix the damage and the neighbor refused, denying it was her. This was frustrating for our client because he kept expensive items in his garage and needed the garage locked, so he repaired the damage each time and it was expensive.

In 40 Words or Less, What Happened: Our client defeats neighbor's request for a restraining order arising over their respective garage doors opening "into each other" and our client allegedly threatened the much larger neighbor. The judge in Long Beach understood the request was a misguided effort to get a vote from a judge about who was more at fault.

Finally, after about the third repair job in three months, our client installed a security camera to record the neighbor's crashing into his garage door once again, as he was certain she would do so. As the neighbor watched our client installing the security camera, she notified her husband, he became furious, as the camera pointed outwards and into the neighbor's garage. Since the neighbor's husband enjoyed smoking marijuana in the garage and drinking there, he was concerned about his privacy.
Tensions rose as the neighbor's husband decided to clown around in front of the camera, as if to show he could not be intimidated. His clowning turned illegal when he began exposing himself to the camera (which did record it) and exposing himself to our client's wife to intimidate her.
One day, tensions reached a boiling point as our client was attempting to pull out from his garage. The neighbor's husband ran over to demand that the camera be removed. Our client, five feet, four inches tall, refused and a very brief scuffle ensued with the six feet, one inch tall neighbor's husband. Police were called and the neighbor's husband was arrested.
Our client, meanwhile, attempted to curtail the tension by seeking assistance from the homeowner's association. This only infuriated our client's neighbor more, so she filed a request for a restraining order.
In the order, she fabricated a story that our client was a constant physical menace to her and that our client, described as six feet, one inch tall, needed to stop reporting her to the homeowner's association, as it was harassing her.
Greg Hill of our office pointed out, by showing the court our client's driver's license, that he was not six feet tall, but eight inches shorter. Greg also pointed out that our client worked 30 days out of every 31 days north of San Jose at Mather Air Force Base, so he certainly could not be a "continuous" presence, let alone a menace. Lastly, he pointed out that the Litigation Privilege (Civil Code § 47) protected his contact with the homeowner's association as long as it was in good faith, which the neighbor could not dispute. The neighbor also failed to allege there was any threat of future harassment.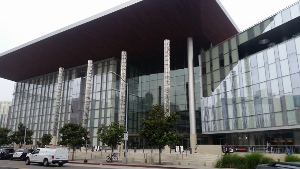 Governor George Deukmejian Courthouse
The court in Long Beach recognized the request for a restraining order for what it was – a misguided attempt to reciprocate harassment to our client for her husband's arrest. The court also pointed out that security cameras are a constant presence everywhere and the right of privacy is not meant to protect illegal conduct, especially if the conduct is in public view as it would be anyways if one were to simply look into the neighbor's open garage.
Our client was relieved that the judge denied the neighbor's request for a restraining order.
For more information about the issues in this case summary, click on the following articles:
Watch our video about restraining orders by clicking
here
.
Contact us.