What Is Second Call? Will the Judge or Prosecutor Be Mad?
Did your attorney advise you that he would appear "second call" for your 8:30 a.m. court appearance tomorrow or in the future? What does this mean? Did he or she comment, "this is commonly done. It is no big deal?" Did this leave you feeling uneasy? Are you concerned that the judge may not appreciate being given less than the highest priority? Were not you ordered to be in court at 8:15 a.m.? Do attorneys have some special privileges?
The Point of This Article: "Second Call" means the second "round" of cases being called. The judge first will try to have hearings on all cases on calendar for the courtroom, but if someone requests "second call," the associated case will be heard for the first time when the cases are called for a hearing by the judge on his or her second attempt to have hearings.

Appearing "second call" means that any hearing on your case will not take place until the attorney arrives to the courtroom after attending to another appearance or obligation first, either inside the same courthouse or at an entirely different courthouse miles away. The judge's clerk will ask the judge to wait for the attorney to appear, as a professional courtesy.
Usually, the attorney or his staff will call the courtroom clerk at approximately 8:30 a.m. as a courtesy to advise the judge that the attorney will appear later, perhaps 9:30 a.m., 10:00 a.m. or 10:30 a.m. The attorney or his staff may then explain to the clerk where the attorney will be at 8:30 a.m. first so the judge knows an approximate time to expect the attorney based on how far away the attorney is driving from.

Second call in Torrance after an appearance at the Pomona courthouse, for example, is later than second call in Torrance after an appearance at the Compton courthouse.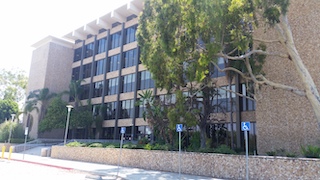 Torrance Courthouse
This is indeed a common practice because many private attorneys do appear in more than one courthouse per day. Since most court appearances are at 8:30 a.m. and a person literally cannot be in two places simultaneously, the attorney must decide which court to appear in first, second, third, fourth, etc.
Ninety-nine percent of the judges in our courts understand this business reality (driven by the cost of criminal defense declining over time, i.e. an average fee for a DUI in 1983 remains the same now in 2018, meaning attorneys simply need to take more cases to remain in business). Ninety-nine percent of the judges in our courts have no problem with an attorney appearing "second call." In fact, many of the judges are former prosecutors or even private criminal defense attorneys, so they understand this reality quite well.
A judge may not allow second call if the matter is set for trial or a preliminary hearing and there are police officers, other witnesses or a jury in court waiting for an attorney. A judge also may have a trial starting at 10:00 a.m. or 10:30 a.m., so the judge may order his or her clerk to tell the attorney to hustle to court to arrive before trial commences or continues.
We at Greg Hill & Associates are sensitive to the judges and clerks who must accommodate a second call request. We never want to keep a judge waiting if the court has no other matters on calendar or finishes all other matters on a particular day. Thus, if we know that a particular judge's calendar is light for a particular day, we will try to prioritize our appearances to appear in that court earliest, if possible.
We are also sensitive to having clients and their families waiting for us. We understand that court can be a stressful experience, so if a client must appear in court with us, we do our best to appear in that courtroom first, if possible, to reduce that stress and allow the client and his or her family to return to work as early as possible that day.
If one is advised that the attorney will be second call for a particular hearing, our advice is not to worry. Greg Hill & Associates is familiar with the professional courtesies that accompany requesting second call and will take all steps so that the judge and the courtroom staff know approximately when the attorney will arrive.
For more information about courtroom issues, please click on the following articles:
Contact us.