What Is Bad Check Diversion under Penal Code § 1001.60?
"Bad Check Diversion" is a local program designed for those charged with violation of Penal Code § 476a (writing bad checks, i.e. checks for insufficient funds (NSF) available or checks written on a closed account, i.e. "bounced checks") to undergo classes and pay off the bad check, as well as any bank fees, to avoid a criminal conviction and thus, a criminal record. The program is typically intended to benefit first-time offenders who are young and do not write large checks or a high number of bad checks.

Under Penal Code § 1001.60, each county's district attorney office is free to create such a program, so its terms will vary county to county. The local DA can then refer the defendant to an outsider subcontractor, under the supervision and direction of the DA's office, for bad check education classes as part of the program. Under Penal Code § 1001.65, the DA's office can collect an administration fee for monitoring and supervising the diversion program, limited to $50 per bad check.
Brief Synopsis: Bad check diversion is a program, mostly for first-time offenders, often who may be young and lacking criminal sophistication and those who do not write many "big" checks, to earn a dismissal for writing bad checks by taking a class, paying off the damages caused by the bad check(s) and perhaps performing some community service.

For purposes of deciding the terms of diversion and even whether a specific defendant is eligible for such a program, the prosecutor may consider defendant's age, criminal history (particularly for writing bad checks), the amount of the bad checks written, the number of bad checks written, the bank fee for collection of the bad checks, the ability of defendant to pay restitution to the victim and the status of the victim (payee or payees) of such a bad check. These facts are investigated as part of any initial inquiry to the check writer (defendant), who may explain that he or she did not even write the check(s) in question and is a victim of identity theft, thereby resolving the case from the outset.
Assuming defendant did indeed write the check, the DA's office will review the person individually. Is defendant 22 years old and just living on her own for the first time and has no prior criminal history? Or is defendant 56 years old with a lengthy criminal history that suggests defendant knew exactly what he was doing was illegal, but was intending and hoping to do so without being caught? Did defendant write just one bad check for her electricity bill for $37 or was it six checks for $1,000 each made out to herself? Is defendant homeless or living with his parents? Does defendant have a history of identify theft or other financial crimes? Can defendant pay off the merchant who received the NSF check? Does defendant work and if so, how much does he or she earn?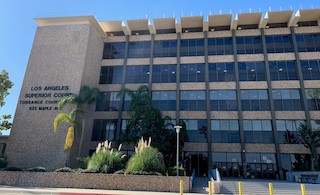 Torrance Courthouse
Prosecution of the individual is halted pending the individual's successful completion of the program. This means if the individual does not successfully complete the program, then the prosecutor may resume prosecution and seek a conviction of defendant. Usually, the program terms are six months to complete a bad check education program, payment to the victim of the amount on the bad check and perhaps perform some community service.
Under 1001.67, a defendant's participation is such a program is voluntary and confidential, meaning information about defendant being referred to the program, not entering a plea (part of the program) and having the case later dismissed is not to be shared with any victim of the bad check so it cannot be used against that person in case the victim opts to file a civil action over the same bad check or checks.
If the individual is accepted to the program and fails to complete it, the DA's office can then prosecute the individual under Penal Code § 476a and all other provisions of the law that apply, i.e. grand theft (Penal Code § 487).
We at Greg Hill & Associates rarely see this program offered, at least in Los Angeles County. Instead, we are often able to negotiate "DA diversion" for the client under Penal Code §§ 1001.1 to 1001.9 (by asking the DA to craft a program as intended by 1001.60), wherein the client attends an online bad check program, shows proof of paying the victim in whole and stays out of trouble for a few months to up to a year. Other times, we are able to secure mental disorder diversion under Penal Code § 1001.36, if the client qualifies, or military diversion for the client under Penal Code § 1001.80, if the client qualifies.
For more information about bad checks, please click on the following articles:
Contact us.