What Is Check Kiting? The Defenses? The Punishment?
Check kiting implies some type of sophisticated scheme to use check in a clever, but fraudulent manner. It brings to mind Leonardo DiCaprio's methods in "Catch Me if You Can," a movie that seemed to glamorize this crime.
Make no mistake about it, check kiting is a crime. It is also known as paper hanging. There are victims, first and foremost being the banks, which then pass along the investigation cost to them to the customers in higher fees.
In a Nutshell: Check kiting is a way of writing checks, or even cashing checks, for insufficient amounts by taking advantage of the typical three-day period a bank needs to clear a check. If done methodically, over time, repeatedly, one can earn interest on amounts that do not exist. It is a form of federal bank fraud, or on the state level, a form of check fraud, Penal Code § 476a and can be a wobbler.

In a typical check kiting scheme, someone opens up two checking accounts. In the first account, our client would deposit funds, perhaps $1,500. For the second account, the client would write a check for $5,000 from the first account. As banks typically take three business days ("float") to clear a check, our client would then write a check for $5,000 and deposit it back in the first account. The checks would theoretically both clear when both really should bounce.
In a way, it is a method to win financing for something someone really cannot afford or earn a few days of interest when the amount of the checks is into seven figures. When done methodically, intentionally on a circular basis sometimes involving more than one bank or even more than one individual making deposits, it may not be noticed for a long time.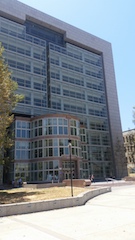 Van Nuys Courthouse
This is a crime punishable under federal statutes prohibiting bank fraud, specifically 18 U.S.C. § 1344, as well as state laws, i.e. California Penal Code § 476a ("Passing Bad Checks").
Under federal law, the prosecution must prove beyond a reasonable doubt that defendant knowingly intended to defraud a financial institution (by showing one institution that he had a high balance in another bank) or obtain money or other items under custody of a federal financial institution by false pretenses. Proving this can be difficult, as individuals often make honest mistakes, but when there are a series of transactions all executed in a similar way, the totality of the circumstances suggests intentional conduct.
The penalties for federal bank fraud can be up to thirty years in federal prison, plus fines of up to $1 million, as well as restitution to the financial institution for all funds fraudulently obtained.
Under California state law, Penal Code § 476a is how check kiting is prosecuted. To be convicted of this, the prosecution must prove that one knowingly wrote a check knowing there were insufficient funds to cover the full amount of the check and in doing so, hoped to obtain something in return for passing the check.
This can occur when one writes a check on an account one knows was closed earlier or one tries to cash a check on an account one knows is empty or insufficient to cover the check.
The most common defense to the crime is that one post-dated the check, with the intent that before the date on the check was to pass, the funds would arrive in the account to cover the check. If one advises the payee that the check is insufficient, this is also a defense, but usually such notice is offered with a promise that on a certain future date, funds will arrive to cover the check. The last most common defense is just that someone made a simple mistake. Duress is often attempted as a defense, but this is looked at very skeptically by judges and prosecutors.
If one tries to pass one check or even several checks that total $950 or less, the offense is a misdemeanor under the new Proposition 47. If the total exceeds $950, it is a felony.
If a misdemeanor, the punishment most commonly involves restitution first and foremost (under Civil Code § 1719) to the victim, and when it is a first-time offense, usually summary probation conditioned on a "bad check" class and often, a court fine up to $1,000 and community service. When the client has prior convictions (whether for bad checks or otherwise), county jail can be imposed up to one year, as well as court fees and fines. In many counties, there are "bad check" diversion programs which allow a client to "earn a dismissal" by attending a class and often, writing an essay about what they learned.
When the offense is a felony, the crime is often charged as grand theft (Penal Code § 487). Punishment can include probation, but when the amounts are high, punishment can reach three years in state prison. When the amount in controversy exceeds $65,000, there are sentencing enhancements that apply.
For more information about fraud, please click on the following articles:
Contact us.