What Is a Commercial Establishment under Prop 47, PC 459.5?
The Gist of this Article: Shoplifting, as defined under Penal Code § 459.5 (the new code section codified under Prop 47), must involve some form of theft from a commercial establishment during normal business hours. A commercial establishment is broadly interpreted, as the following case summary shows, finding that a lobby in a motor home dealer is a "commercial establishment" and shoplifting can include stealing money and cigarettes from the receptionist's purse.

At some point around 11:45 a.m. on September 22, 2010, Michelle Diane Franske walked into the main lobby of Dole Transportation in Yreka, California, asking about a motor home that "was possibly for sale."
An employee of Dole Transportation, M, greeted Ms. Franske and said she'd go find the owner of the motor home at issue and return.
When M. returned, she found Ms. Franske in her office. M. noticed that her cigarettes and her wallet were removed from her purse that she had left in her office when looking for the motor home owner. M. confronted Ms. Franske about this and, in response, Ms. Franske returned M's wallet from her pants, but there was $242 missing from the wallet. Ms. Franske also kept the cigarettes in her pocket.
M. called the Yreka Police, who came and arrested M.

In November, 2010, Ms. Franske pled no contest to felony second degree commercial burglary and admitted she committed this felony while released on bail for a prior first-degree residential burglary. The judge then sentenced Franske to ten years and eight months in state prison.

After Proposition 47 was passed in November, 2014, Franke requested resentencing under Penal Code § 1170.18, finding that the felony second degree commercial burglary of the Dole Transportation office premises was actually misdemeanor shoplifting, Penal Code § 459.5.
The People appealed this ruling, arguing that what Ms. Franske did was not shoplifting under Prop 47.
The Third Appellate District denied this appeal, starting its ruling in People v. Michelle Diane Franske (2018 DJDAR 10607) by quoting People v. Blackburn (2015) 61 Cal.4th 1113, at 1123: "in questions of statutory interpretation, courts begin with the text and if no ambiguity appears in the statutory language, we presume that the Legislature meant what it said, and the plain meaning of the statute controls."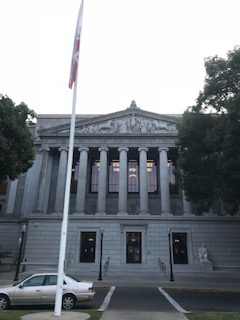 Court of Appeal Third Appellate District Sacramento
The Third Appellate District then quoted Penal Code § 459.5(a), which states that "Shoplifting is defined as entering a commercial establishment with intent to commit larceny while that establishment is open during regular business hours, where the value of the property that is taken or intended to be taken does not exceed nine hundred fifty dollars ($950)."
The appellate court the addressed whether Dole Transportation was a commercial establishment, by citing in In re J.L. (2015) 242 Cal.App.4th 1108, 1110 and 1114, which defined commercial establishment as "one that is primarily engaged in commerce, that it, buying and selling of goods or services." In In re J.L., a juvenile student stole another student's cell phone out of a school locker and the court found such theft did not take place at a commercial establishment under Penal Code § 459.5.

Here, Dole Transportation was in the business of selling motor homes, so it was a commercial establishment. The appellate court disagreed with the People's argument that the theft must be of "openly displayed merchandise." The court stated that to add such a requirement violated a "bedrock" rule of statutory construction that if "the lawmaker gives us an express definition, we must take it as we find it . . ." Delaney v. Superior Court (1990) 50 Cal.3d 785, 804, quoting Bird v. Dennison (1857) 7 Cal. 297, 307.
We understand the People's argument, but it seems to overlook that 459.5(a)'s text was written broadly enough to include the type of conduct here, although the cigarettes and the money in M.'s purse were not the goods or services that Dole Transportation was in commerce to sell or trade.

We believe this case will be cited by others hoping to similarly reduce felony convictions for various forms of theft taking place at any business to shoplifting.
In a footnote, the court acknowledged that the California Supreme Court is reviewing People v. Gonzalez (2015) 22 Cal.App.4th 35, wherein an appellate court held that entry into a bank to cash a forged check was not larceny within the meaning of 459.5, although a bank certainly was a commercial establishment, but the attempt to cash a forged check was challenged for the type of conduct the statute meant to cover.
The citation for the Third Appellate District Court ruling discussed above is People v. Michelle Diane Franske (3d App. Dist., 2016) 6 Cal.App.5th 1057.

For more information about shoplifting under PC 459.5, please click on the following articles:
Contact us.