Does Felony PC 459 Qualify Under Prop 47 as PC 459.5?
About This Article Briefly: The following appellate court ruling was ultimately reversed at the California Supreme Court, which found that check fraud could be considered shoplifting under Penal Code § 459.5 because a bank was a commercial establishment.

Since November 4, 2014, when voters approved Prop 47, there has been a parade of published appellate opinions about which offenses are eligible for reduction under Proposition 47 and which are not.
In that regard, often two defendants will commit the same basic offense, but then resolve the case in different ways, which consequently results in differing eligibility under Prop 47. For example, the reader of this article may have read a prior article published on this website about Erin Anne Hoffman. Ms. Hoffman, age 19, stole 18 checks from her parents to sign with her parent's signature and make payable to herself. She then used the money to buy heroin.
The checks varied in amount from $150 to $450. The total amount was well over $8,000. She entered into a plea bargain to felony forgery, Penal Code § 470(d).
Ms. Hoffman entered into the plea bargain about ten months before Prop 47 was passed. After Prop 47 was passed, which reclassified forgery as a misdemeanor if the forgery involved less than $950, Hoffman sought reclassification of her forgery convictions under Prop 47. The trial court denied the petitions because the total theft exceeded $950. On appeal, the appellate court reversed the trial court, saying the "total amount" approach did not apply. Hoffman had her felony forgery convictions reduced under Prop 47.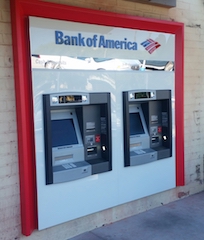 B of A ATM
The Hoffman matter is discussed to provide context to the case of Giovanni Gonzales, who took two blank bank checks from his grandmother. He then wrote checks to himself, each for $125 and signed his grandmother's name. The grandmother stated she did not authorize such checks.
Gonzales then went to Bank of America and cashed the checks. He was later arrested and charged with felony second degree commercial burglary and felony forgery. In early 2014, Gonzales negotiated a plea bargain to felony commercial burglary, Penal Code § 459. The District Attorney then dismissed the forgery charge. Gonzales was placed on formal probation for three years and ordered to serve 50 days in county jail.
In January, 2015, Gonzales petitioned the trial court under Penal Code § 1170.18 to resentence him for this conviction. As the reader of this article may be aware, Proposition 47 does not apply to commercial burglary.
Gonzales was aware of this, so he argued that his felony commercial burglary conviction fit the Prop 47 definition of misdemeanor shoplifting under the newly enacted Penal Code § 459.5. Under 459.5, ". . . shoplifting is defined as entering a commercial establishment with intent to commit larceny while that establishment is open during normal business hours, where the value of the property that is taken or intended to be taken does not exceed nine hundred fifty dollars ($950)."
Gonzales argued that his entering a Bank of America, a commercial establishment, during regular open business hours, with the intent to commit larceny of $250 met the definition of shoplifting under Penal Code § 459.5 and thus was a misdemeanor.
The Fourth Appellate District, in
People v. Giovanni Gonzales
(2015 DJDAR 12298), rejected Gonzales' strained attempt. The appellate court cited to
People v. Williams
(2013) 57 Cal.4th 776, 788, wherein the court evaluated larceny in the context of robbery. In
Williams
, defendant used a credit card, which was encoded with a third party's credit card information, to buy gift cards at Walmart.
In considering the "feloniously taking" requirement of robbery, the court found that defendant did not commit larceny because the taking was consensual. Walmart, through its store employees, consented to transferring title to the gift cards to defendant. Defendant acquired title to the gift cards through his false representation, on which Walmart relied, that he was using valid payment cards to purchase the gift cards. Only after discovering the fraud did the store seek to reclaim possession.
In discussing larceny within the context of shoplifting, thus, the taking must be nonconsensual. It must be without the consent of the property owner, or against his or her will. In passing forged checks, Gonzales did not commit a trespassory taking and thus did not commit robbery. Like in Williams, Gonzales' taking was consensual. It was not larceny and thus, not shoplifting.
The trial court's denial of the Prop 47 petition was thus affirmed.
The citation for the Fourth Appellate District Court ruling discussed above is People v. Giovanni Gonzales (4th App. Dist., 2015) 242 Cal.App.4th 35; then reversed at People v. Giovanni Gonzales (2017) 2 Cal.5th 858 (check fraud may be considered shoplifting under Prop 47).

For more information about the issues in this case, please click on the following articles:
Contact us.