What Are Improper Grounds for Dismissal under PC 1385?
There are eight generally understood grounds that may not be the basis for a dismissal under Penal Code § 1385. We present this article because such grounds are often the reason our client suggests dismissal and we must regrettably advise the client that such a reason or reasons are an improper basis for a dismissal in the interest of justice.
Brief Synopsis: There are eight improper grounds for a judge to exercise discretion under Penal Code § 1385 to dismiss a case or a charge. Knowing these improper grounds can prevent one from suggesting such a reason for dismissal and spare one much embarrassment.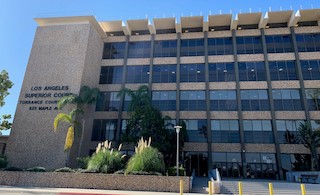 Torrance Courthouse
The improper grounds are:
When the Victim Requests Dismissal. Although requiring a victim to testify is a difficult decision, it really may be best in some cases of domestic violence, gang violence, elder abuse and sex offenses. The alternative of dismissing the case may ultimately be more dangerous for the victim and may encourage the defendant to continue the criminal behavior. If such a victim demands to address the judge and request dismissal, the judge may refer someone from the prosecution to speak to the victim to see if he or she is there because of duress.

Prospect of Rehabilitation. A dismissal based on the belief that defendant needs a dismissal to help with his rehabilitation is improper. For example, in People v. McAlonan (1972) 22 Cal. App. 3d 982, 99 Cal. Rptr. 733, the judge, although personally convinced of defendant's guilt, dismissed a marijuana charge so that defendant could enter the Navy. The appellate court held that this was an improper use of Penal Code § 1385, stating, "[W]e are convinced that society's interest that justice be dispensed with an even hand and in accordance with statutory authority precludes use of the dismissal statute to avoid conviction." Id., at 987.
Availability of a Civil Remedy. Although domestic violence victims may have certain civil remedies available, i.e., a civil lawsuit for assault and battery, false imprisonment, etc., as well as a civil restraining order, the existence of these remedies is not a proper basis for dismissal of a criminal complaint under Penal Code § 1385. See People v. Curtiss (1970) 4 Cal. App. 3d 123, 84 Cal. Rptr. 106 (trial court abused its discretion in dismissing grand theft charge against defendant for orally stated reason that the court was not in the business of being a collection agency).
Congested Court Calendar. Although increased domestic violence arrests and prosecutions may appear to congest court calendars, dismissal on these grounds is improper. People v. Mack (1975) 52 Cal. App. 3d 680, 684, 125 Cal. Rptr. 188.
Judicial Disagreement with the Three-Strikes Law. A judge acts improperly in granting dismissal if guided solely by personal dislike for the effect that the three-strikes law would have on a defendant, while ignoring defendant's background, the nature of his or her present offenses, and other individualized considerations. People v. Superior Court (Romero) (1996) 13 Cal. 4th 497, 531, 53 Cal. Rptr. 2d 789, see People v. Dent (1995) 38 Cal. App. 4th 1726, 1729-1731, 45 Cal. Rptr. 3d 746 (trial court abused its discretion in finding "wobbler" offenses to be misdemeanor under Penal Code § 17(b) rather than felony only to escape consequences of the three-strikes law).
Informal Diversion Programs. Several cases, including People v. Municipal Court (Gerlardi) (1978) 84 Cal. App. 3d 692, 695-700, 149 Cal. Rptr. 30, have held that the court cannot use Penal Code § 1385 to create informal diversion programs. In Gelardi, the appellate court condemned a Marin County municipal court practice of continuing misdemeanor cases for possible dismissal if defendant committed no further violations. There is no legislatively provided domestic violence programs in California and both the California Supreme Court and the appellate courts prohibit judicial creation of such programs.
Quashing Subpoena for Prosecution Witness. Improper quashing of a subpoena for a prosecution witness has been held tantamount to a dismissal and an abuse of discretion under Penal Code § 1385. People v. Superior Court (Long) (1976) 56 Cal. App. 3d 374, 378-379, 126 Cal. Rptr. 465 (improper to quash when alleged incest victim testified at preliminary examination that she wished to reconcile with mother and stepfather – defendant, and that testifying at trial would prevent this).
Penal Code § 654. A court may not dismiss one charge after the defendant pleads guilty to a related charge because it believes that the charge will be subject to the Penal Code § 654 prohibition on multiple punishment for the same act. See People v. Andrade (1978) 86 Cal. App. 3d 963, 973-976, 150 Cal. Rptr. 662 (court's reasons for dismissal not stated in minutes).

We present this articles so that defense counsel does not suggest a certain course of action that a judge is barred from following, causing the attorney to lose credibility with the judge and the prosecutor (and thereby damage the client's case).
For more information about Penal Code 1385, please click on the following articles: