Westminster, Dismissal After 10 Anger Management Classes
Our client, an attorney in his early fifties, was having marital problems. His wife had openly started an affair with a much younger man who introduced her to marijuana.
In 50 Words or Less: Westminster, domestic violence case dismissed after client does ten anger management classes and stays away from estranged wife for six months.

The client was trying to distance himself from his wife when she realized that in a divorce proceeding, if there were a protective order against her husband, protecting her as a victim of domestic violence, she was likely to receive preferential treatment in determining property rights and alimony. She therefore filed a request for a protective order, which the judge denied because he recognized it as based on false allegations.
She then filed a second request for a protective order, which was also denied for the same reasons. In each attempt, her credibility was so poor that our client never even had to speak. In each attempt, the judge simply did not believe the claims of our client's wife that our client was violent or a danger to her.
Finally, the wife decided she needed stronger evidence and witnesses, so she barricaded herself in our client's house with her boyfriend while our client was out doing his morning workout before work. When our client returned, he could smell marijuana smoke from the street.
At first, he was unable to enter the house. She hoped he would yell and attract the attention of neighbors. She hoped he would break a window to enter and she could call the police. She hoped he might get inside and kick down her door and then fight with her or her boyfriend.
However, our client found a hide-a-key and entered the house, much to his wife's surprise. He then showered and left for work.
As he left for work, he called the police to report the situation and asked for help in removing his wife from his house, as he feared she would loot the home with her new boyfriend for money for drugs. Police arrived and the wife told an incredible story of our client hitting her and beating her, although she had no visible injuries.
She also claimed that he took her bong and broke it in anger on the couple's patio, however, one of our client's children actually videotaped her mom using the bong and accidentally dropping it.
Being Orange County, such a story of incredible violence resulted in our client's arrest. Police even took pictures of the wife's condition, which showed no injuries at all, and recommended that charges be filed, which were. Our client was even arrested at work and had to bail himself out on felony charges of violating Penal Code § 273.5.
Luckily, the Orange County District Attorney's office brought the case as a misdemeanor instead of a felony. This gave the client hope that the DA had realized the meritless nature of the case.
At first, our client represented himself and trusted the prosecution to recognize the sheer inconsistencies between the photographs and his wife's tall tales. The Westminster prosecutor, however, was inclined to offer our client the standard first-time domestic violence offer: 36 months of summary probation, 52 batterer's classes, a $300 fine plus penalties and assessments, a protective order in favor of his wife entered on CLETS and, for him, an obligation to report the conviction to the State Bar of California.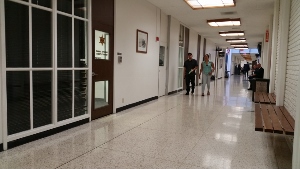 Westminster Courthouse
The client tried to talk to the young Westminster prosecutor, but had no luck.
He therefore hired Greg Hill & Associates. Greg met with the client and reviewed the police report. He called the prosecutor and attempted to discuss the case. Greg explained the credibility issues with the client's wife, as well as the absence of any physical evidence. He also revealed that we had a video showing the wife was again lying to police. Greg emphasized that our client was unafraid of taking that case to trial and, as an attorney, he knew exactly what this meant, unlike most others who talk tough about trial, but really have no idea what they are saying.
After just two appearances by Greg, the prosecutor agreed to offer a dismissal if the client attended ten anger management classes, which the client did. The client was very happy to "earn" a dismissal and avoid the self-reporting obligation to the State Bar.
For more information about the issues involved in this case, click on the following articles:
Watch our Video about Domestic Violence by clicking
here
.
Contact us
.