Were You a Firefighter in Prison of Jail? What is AB 2147?
Were you or a loved one sentenced to prison and assigned to fight fires through one of the 44 minimum security California Conservation Camps operated by the CDCR or sentenced to county jail and worked as a hand crew fighting fires? Did you enjoy the experience?

The Gist of this Article: A person assigned to Fire Camp while in prison or even jail and actually fought fires (not just, i.e., serving as a cook or driver), that person is eligible to have parole (or PRCS) or probation terminated early and to have the conviction – even for a felony with a prison sentence – expunged, which can remove the barrier to obtaining an EMT certificate and becoming a fire fighter once out of custody.

Did you help fight the Pocket, Tubb, Atlas, Camp or Kincade Fire? California Conservation Camp firefighters, through the CDCR, helped fight all of these fires.
Did you wonder if you could be a paid professional fireman once out of custody? After all, it is government job with decent pay and excellent benefits. It can be a fulfilling career.
If you successfully participated as a fireman or otherwise helped fight fires, you may be eligible to have your conviction expunged under a new law, Assembly Bill (AB) 2147, which becomes effective January 1, 2021. This law permits both early termination of probation or parole (or post-release community supervision), as well as expungement of the conviction under a new code section, Penal Code § 1203.4b.

The intended effect of this law is to permit such individuals receiving such relief to be able to become licensed Emergency Medical Technicians (EMT's) and continue fighting fires, instead of having to find another job once released from prison or jail, which may be very difficult.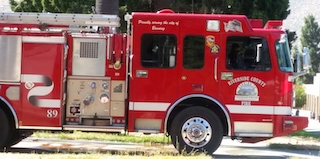 Firetruck
Moreover, the county and/or the State of California will not need to retrain the individual and the state can benefit from the prisoner's experience fighting fires. When one went to one of the 44 California Conservation Camps, one received the same training from CAL-FIRE as CAL-FIRE gives to its seasonal firefighters, as well as ongoing training while in the program. This investment of training will not be lost.
Currently, someone who served time in custody, especially for a felony, is ineligible for licensing as an EMT and therefore, his or her experience as a firefighter in custody cannot translate into a civilian job as a professional firefighter doing the same thing.
Some folks who did such work found it tremendously fulfilling, challenging and enjoyed the camaraderie and physical nature of the work. For some, it may have been the first "real job" they have ever had and they genuinely thrived on it, excelling and greatly improving their self-esteem.
Not everyone is eligible for this relief, but those who are ineligible for such relief probably were never assigned to the California Conservation Camp Program (which is operated by the California Department of Forestry and Fire Protection, or CAL-FIRE) and probably never worked as a hand crew while in county jail, or if they did so, they suffered certain convictions later.

If one was convicted of murder, arson, kidnapping, rape, any felony punishable by life imprisonment, any offense requiring registration under Penal Code § 290 (sex offender), or escape from custody in the last ten years, one is ineligible for relief under this new law.
If one seeks such relief, one must file a petition for dismissal under Penal Code § 1203.4b with the court. The court will then contact the Secretary of the Department of Corrections and Rehabilitation (CDCR) or the appropriate county authority to confirm the petitioner successfully participated in such a program. If the Secretary of the CDCR or the appropriate county authority verifies that one successfully participated in the program, the judge still has discretion to deny the petition.

In other words, such a request is not automatically granted. Consequently, we suggest one seeking such relief submit a declaration explaining one's rehabilitation while in custody and one's goals of becoming a professional firefighter if the judge grants such relief. We believe it would be prudent to express regret about one's criminal history and explain how one plans to avoid such poor decisions in the future. Letters from others expressing support of you and describing your new ambitions and maturity would help.

If restitution is owed to the victim and it is not paid in full yet, the petition should address this. If restitution was paid in full, the judge should be informed of this fact.
Lastly, it merits mention that even if the judge grants relief, ordering expungement, the former prisoner must still reveal the conviction in certain situations such as applying to become a police officer, applying for a teaching credential, applying for public office (i.e., mayor), or applying to operate a state lottery (i.e., as a liquor store owner). Finally, expungement does not restore the former inmate's right to own, possess or purchase a firearm or ammunition.
For more information about expungement, please click on the following articles: