Valley State Prison
21633 Avenue 24, Chowchilla, CA 93610, (559) 665-6100
Valley State Prison used to be called the Valley State Prison for Women, a female-only prison. It has since changed its name and now includes mostly male inmates, but also some female inmates. It houses inmates of all security levels, including Level IV (maximum security). It is across the street from the more famous Chowchilla State Prison, one of California's few female-only prisons.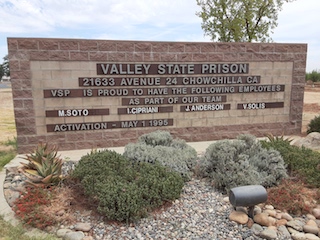 CA Valley State Prison
The prison, built in 1995, is located about 250 miles north of Los Angeles, or 20 miles north of Fresno along Route 90, near the City of Madera. Valley State houses 1627 inmates (1,353 males and 274 females), below its stated design capacity of 1,980 inmates.
Two of the most notable prisoners who have served time there are Larissa Schuster, who was sentenced to life in prison without parole for murdering her husband by submerging his body in hydrochloric acid, and Julia Diaz, who was the first female prisoner to be denied parole under Marsy's Law for the murder of a seven year old boy in 1979.