Useful Information About California State Prisons
It can be an overwhelming experience to finally realize you or a loved one is headed to state prison. You may have tried to deny this would ever happen, or you had hoped for the jury or the judge to recognize a particular defense or believe a specific witness. Sadly, your optimism and prayers were not rewarded.
About This Article Briefly: This article gives a short amount of information about each state prison within California. If you have a friend or family member housed at any one of these prisons, this information may make your visit there less stressful and more meaningful.

Your attorney or your loved one's attorney most likely explained that after one goes into custody to serve a prison sentence, Wasco is the first stop. This facility near Bakersfield is where one receives an initial screening, medical evaluation and orientation to prison procedures, rules, classes, etc., before being assigned to a prison where the remainder of the sentence will be served.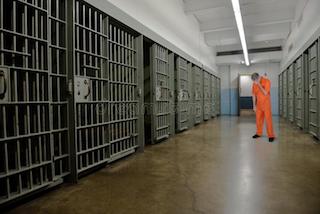 Prison Photo
California has 35 adult prisons located throughout the state. They range in various security levels housing male inmates only, female inmates only or co-op inmates.
A few well known facilities are:
San Quentin State Prison

San Quentin State Prison is California's oldest and best-known correctional institution, which was established on the site currently known as Point San Quentin, in July of 1852, as an answer to the rampant lawlessness in California at the time. During its construction, inmates slept on the prison ship, the Waban, at night and labored to build the new prison during the day. San Quentin housed both male and female inmates until 1933 when the women's prison at Tehachapi was built. The state's only gas chamber and death row for all male condemned inmates are located at San Quentin.
California State Prison, Corcoran
This is a male-only state prison located about one hour north of Bakersfield. It is home to Charles Manson and Juan Carona, a Mexican serial killer of 25 itinerant farm workers in the early seventies. He was sentenced to 25 life terms. Sirhan Sirhan, the convicted murdered of Robert F. Kennedy, also was housed there from 1992 to 2009. In March of 2012, there were approximately 4,500 inmates there.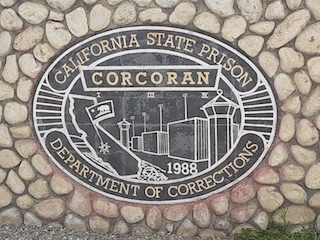 California State Prison Corcoran
The facility has a design capacity of just over 3,000. The prison is fairly new, having opened in 1988. The prison was notorious for fights and was featured in two MSNBC Lockup specials (Inside Corcoran (2003) and Return to Corcoran (2005)).
California Institution for Men
This is a male-only prison in San Bernardino County. It is the state's largest Level 1, minimum security prison (no perimeter fence), although it also houses maximum security prisoners, has a 100 bed HIV/CID unit and a mental health unit. Prisoners will be transferred to CIM before moving on to their ultimate prison destination.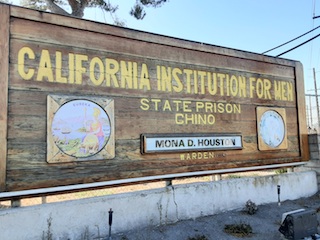 CA Institution for Men
The prison was built in 1941, it is the third-oldest state prison. It houses over 5,000 prisoners. In 2004, a nearly twenty-year prison guard there was found guilty of distributing drugs to prisoners there who were members of the Nazi Lowriders, a white supremacist group. In 2009, there was a prison riot there and over 250 prisoners were injured. The riot broke out between African American and Hispanic prisoners and over 50 of the injured prisoners were sent to local hospitals. The prison was featured in the Hollywood movie, "American History X" involving Edward Norton. The film, about two brothers involved in a Neo-Nazi movement, showed graphic violence.
California Health Care Facility
This facility in Stockton provides medical and mental care to inmates who have the most long-care needs. It provides treatment for up to 1,772 inmate-patients. The facility itself is located in South Stockton. The facility, which does have an electrified fence surrounding it because it does provide medical and mental care to even murderers, just opened in July of 2013. Stockton is a city about 340 miles north of Los Angeles.
California Institution for Women
This women-only prison was built in Chino in 1952. It houses approximately 2,000 inmates, although its design capacity is 1,356 inmates. It houses low level (Level 1 inmates), which involves no perimeter fences, as well as Level III inmates, which involves individual cells and armed guards.

CA Institution for Women
The prison provides substance-abuse counseling, forestry, art and a wide variety of inmate self-help groups. The prison houses female prisoners with special needs, such as those who are pregnant and suffering from HIV, psychiatric problems and methadone dependency. Patricia Krenwinkel and Leslie Van Houten, both part of Charles Manson's group, are housed in CIW.
Click on the following link below to find out background information about other state prisons.
California State Prisons
Contact us.