Torrance Second Time DUI, 0.21% BAC, Crash into 3 Cop Cars
Prescription drugs and alcohol can pack quite a punch, as our forty-six year old client found out. She had been with friends at a Redondo Beach restaurant, eating dinner. With dinner, she consumed two large glasses of wine, but felt fine as she walked back to her car. It was just past 9:00 p.m.
Summary: Second-time DUI starting in Redondo Beach, but ending in Torrance when our client runs into three police cars. Our client's BAC was 0.21%. Case resolved for four days of county jail, but significant other conditions.
She said her good byes to her friends and then got behind the wheel of her car, an older Mercedes, to drive home. As she was backing out of her parking space, she accidentally bumped a car driven by a Middle Eastern man. The speed at impact was less than three miles per hour, so there was probably no visible damage at all.
The man seemed extremely upset, so much so that our client became alarmed that he might hurt her if she got out of her car. Being less than five feet tall and under 100 pounds, she had a reasonable fear of the young, taller and heavier man, who was indeed well over six feet tall, with a thick, full beard and even wearing a hijab.
Our client therefore sped away onto Pacific Coast Highway, heading east towards Walteria and Lomita. The man followed her, flashing his lights. Our client became even more alarmed. She turned left on Anza and went northbound all the way to 190th Street. While driving northbound, she could see the man following her. They were both calling 911 to report each other.
The Torrance Police Department was able to locate the two turning from eastbound 190th Street to southbound Hawthorne Boulevard. They instructed the Middle Eastern man to stop following our client and he did. The police then attempted to pull over our client, but she refused, thinking the Middle Eastern man had lied about her in some way.
The police became more and more concerned about our client, as she was then observed weaving down Hawthorne Boulevard. She then turned left on Torrance Boulevard in an attempt to drive to the Torrance Police Station. She believed she was talking to the 911 operator and telling her this (it turns out that our client only thought this, as 911 never received any calls from our client).
The police then decided to perform a "PIT" maneuver on our client and brought our client to a stop. However, our client put her car in reverse and sped away. Police then caught up to her and formed a barricade to stop our client. She then turned around again. At this point, eight Torrance Police cars were involved. She then ran head-on into one of the cop cars and bounced into two more, finally coming to a stop.
Luckily, no one (including our client) was injured. Our client was then arrested and gave a breath sample, which was measured at 0.21% blood alcohol content (BAC). She explained to the police that she was under prescription for trazadone, Zoloft and Welbutrin. However, it was not clear if her behavior was even affected by such medications, as her blood alcohol level was so high.
There were many problems with case, the least of which seemed to be that this was second-time DUI. The client prudently checked herself into a residential alcohol treatment program immediately.
However, she was charged with nine counts, fortuitously none of which were felonies. Greg appeared at the arraignment and received the initial offer from the prosecutor: five years of informal probation, the 18 month alcohol awareness program (SB38), 90 days in County Jail, a $1,000 fine plus penalties and assessments (a total of about $4,500), restitution, 52 AA meetings, the City of Torrance booking fee ($435) and a $507 DUI response fee.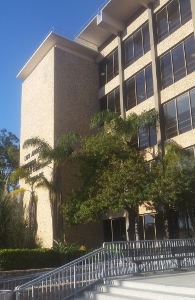 Torrance Superior Courthouse
Over the course of several court appearances, Greg was able to explain the client's conduct and who she was. He explained how she had continued in the residential treatment facility for over 60 days (thanks to her insurance) and how necessity (an affirmative defense) caused her to flee the angry Middle Eastern man for her personal safety. Greg explained that while the prosecutor might be skeptical of such a defense, a jury might find it reasonable and find her not guilty of even the first hit and run.
The prosecutor grudgingly acknowledged the argument, but did more so by how she agreed to ultimately resolve the case: instead of 90 days in county jail, the case was resolved for the minimum of four days (for a second time DUI). The court fines were dropped to a minimum of $390 from $1,000, saving the client not only $610 in court fees, but over $2,500 in penalties and assessments. The plea bargain did add a few items, but these were far less painful: 52 AA meetings per year for five years (AA meetings are free) and the twelve hour hospital and morgue program (HAM) and the Mothers Against Drunk Drivers (MADD) Victim Impact Panel (VIP).
The client was very happy to avoid 86 days of County Jail due to her job (she still had to serve four days) and to avoid almost $3,000 in court fines, plus penalties and assessments.
For more information about second time DUI's, please click on the following articles:
Contact us.