Torrance Possession of a Loaded Firearm, Marijuana for Sale
Our client, age 25, was headed to play basketball with friends in the middle of the day. He was a big guy, standing six foot, four inches tall and weighing over 300 pounds. He was "between jobs," but had taken an entrepreneurship class hosted by U.S.C. and dreamed of one day opening a gym. He was a high school graduate who had taken a class or two at Cerritos College. He lived at home with his mom.

As he was headed northbound on Hawthorne Boulevard toward a gym in Gardena (our client lived in Carson, but was in Torrance visiting a friend, he told officers), he could see a police officer in his rear view mirror. The female officer seemed to be staring at him, so he pulled over to the curb near Denny's, just before Torrance Boulevard.
The female officer did not even turn on her blue and pink lights or use her siren. Our client just pulled over and put his hands up in the air. He was African American and felt it was inevitable that he was going to get stopped, so he just pulled over in advance.
At that area of Hawthorne Boulevard, there is no parking lane or bike lane, so our client was blocking traffic from behind.
The officer pulled her car behind our client's car and asked if there was a problem. Our client said, "no, but I knew you were going to pull me over because I'm black." The white officer said, "No, I was not, but since you are pulled over, how do you like your car?" The officer commented that she had a Subaru like him. She then noticed that his exhaust system was in violation of the Vehicle Code, as it was modified to make more noise. Our client responded, "See, I told you you'd find something."
The police officer then asked for our client's driver's license, proof of insurance and registration, which our client provided.
Our client had just smoked some marijuana, which is legal under Prop 64, as our client was an adult.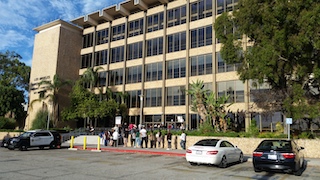 Torrance Courthouse
The officer's check revealed that our client was the registered owner of a firearm. So when she returned to our client's car, she asked him if he had his gun with him. Our client did have it under his seat, loaded and unlocked. However, our client said, "no, it is at home."
The officer then asked if she could search the car because, as she suspected correctly, he was lying. As she wrote in her police report, he seemed nervous and evasive.
Our client then said "no" to the search request so the officer, said, "fine, I'll get a warrant." She then instructed our client to exit the vehicle and sit on the curb. She then called for back up officers because she sensed something more might happen.
As this location was close to the Torrance Police Station, three police cars responded, with sirens blaring and lights flashing.
A few burly male police officers then took over the investigation and ordered our client to exit the vehicle slowly, to knee down, to face forward and to put his hands in the air. This greatly upset our client, who kept saying "Man, I'm not doing anything wrong! You guys are racist!"
Officers then handcuffed him and searched the car, finding a loaded handgun under the driver's seat, unlocked, as well as about 50 grams of marijuana and what appeared to be pay-owe sheets in a small backpack. The officers interpreted the large amount of marijuana and the pay-owe sheets as evidence of sales and confronted our client about selling marijuana. He also had a few hundred dollars in cash on him, but no job.
Officers then ordered our client to sit on the curb, but he refused and spit on the ground. Officers quickly piled on top of him and put a spit shield / mask over his head and hog-tied him, as he fought back.
He was arrested for having a loaded firearm in public (Penal Code § 25850(a)), obstructing or delaying arrest (Penal Code § 148(a)(2)) and possession of marijuana for sales. He was taken to the hospital because he claimed he was having a seizure. He stayed handcuffed to a gurney for several hours.
The client was eventually released from the hospital to the Torrance County jail and his mom posted bail for him. His mom kept telling the officers they were racist and she was going to sue them.
The client and his mom came to Greg Hill & Associates wanting to sue the City of Torrance for violation of their civil rights. Greg had to explain to each that the mom did not have any rights violated because she never had any contact with police and her son was no longer a minor. Greg then had to explain to the client that it was illegal to carry a loaded firearm in public in an unlocked container, illegal to have more than 28 grams of marijuana and illegal to delay arrest.
Finally, our office received the body-cam video of the entire event from start to finish and it was awfully bad.
Our client reluctantly agreed to a plea bargain for violation of Penal Code § 25850(a) and was placed on three years of informal probation with an obligation to attend 12 anger management classes, perform 60 hours of community service and pay a court fine of $300. All other charges were dismissed.

The client was upset with this, still vowing to sue the City of Torrance for violation of his civil rights.

We present this summary because it was a tough case with a stubborn client, but the result was really quite good, although the client thought the case should have been dismissed "because the traffic stop was illegal," even though he actually pulled himself over for the police without the police initiating the stop.
For more information about possession of a firearm, please click on the following articles: