Torrance, Felony Government Code 1090 to Misdemeanor, 1203.4
At age 60, our client entered into a plea bargain wherein she pleaded "no contest" to a felony violation of Government Code § 1090, wrongful financial interest in a contract by a school district employee.
The criminal case arose over her perceived involvement in the decision to award a school district construction contract to the company employing her then-husband.
The Gist of This Summary: Client entered plea bargain to a felony violation of Government Code § 1090. This conviction caused her tremendous problems in gaining any employment and, in turn, affordable health insurance. We had the charge lowered to a misdemeanor (she henceforth was no longer a felon) and the conviction expunged so she could legally state she was never convicted (with several exceptions).

As a condition of formal probation, she was ordered to perform two-hundred and sixty hours of community service and pay restitution to the involved school district, which will remain anonymous for purposes of this case summary. The amount of restitution will also remain unspecified for purposes of this case summary and out of respect for our client.
The client performed all 260 hours of community service in one year and paid the entire amount of restitution ordered. In the meantime, she separated from her husband, eventually filing for divorce, and moved home, outside California.
However, with a criminal history for a felony, no less one that implied fraud, our client was unable to secure any employment. As a single person over sixty, she needed employment to meet her expenses, most notably her medical expenses.
Thus, when she finished her probation, she contacted Greg Hill & Associates about reducing her felony to a misdemeanor and having the conviction "expunged." When she spoke with Greg Hill, he asked her why she did not seek early termination of probation perhaps a year earlier. Her response was that her public defender never told her this was possible.
Greg explained that early termination of probation had been possible, but that moving forward now with "expungement" was needed. Greg was careful to explain that expungement under Penal Code § 1203.4 did not erase or delete the record of the case being filed or her initial plea, but that it would change her last plea in the case to "not guilty" and the court would dismiss the case.
Greg pointed out that in other states, expungement actually deleted the record, but this was not so in California. However, with relief under § 1203.4, the client would be lawfully able to answer "no" to any employment question asking her if she had been convicted of any felony or misdemeanor, with specified exceptions.
Greg also explained that with Government Code § 1090, a "wobbler," she could request that the judge reduce the level of the offense to a misdemeanor "for all purposes" moving forward. This was particularly important for the client seeking employment.
Greg's legal assistant Kellie Stame then e-mailed the client various questions to help our office draft a declaration in support of reducing the charge to a misdemeanor and for relief under Penal Code § 1203.4. The client then answered the questions and Ms. Stame drafted a rough draft of the supplemental memorandum in support of the petition for relief under § 1203.4 and to reduce the charge, post-conviction, under Penal Code § 17(b)(3).
Greg then polished up the supplemental brief, filed in conjunction with certain judicial council forms, and the client signed the final draft of her declaration.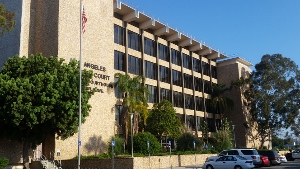 Torrance Superior Courthouse
The petition and the supplemental memorandum were then filed at the Torrance Superior Court and served to the District Attorney's office there.
About a month later, the judge reviewed the petition and granted both the reduction of the felony to a misdemeanor, but also the dismissal of the case.
The client was very happy, knowing she could now move forward in her job search without the stigma of being a convicted felon and the long shadow that this status cast over her employment opportunities.
For more information about the expungement and the reduction of a felony to a misdemeanor, please click on the following articles:
Contact us.