Torrance, Client Breaks into 16 Cars, Steals Various Items
Our client, age 18, had an older boyfriend, age 22, who was a career criminal and very persuasive. She was in love. He introduced our client to alcohol and various illegal drugs such as Xanax without a prescription.
One evening, he asked our client if she could help him with his finances. He explained that he needed some money to finalize a big deal and just needed a few hundred dollars more. He described the need as urgent and asked our client if she could help. The two hatched a plan to look into every single car parked along a particular street, including in driveways, for extra money.
The Gist of This Case Summary: Client charged with 20 misdemeanor counts of receiving stolen property (Penal Code § 496(a)) in Torrance courthouse after breaking into dozens of parked cars at night. Case resolved for 45 days of country jail, $440 in court fines, the City of Torrance booking fee, three years of informal probation and 104 AA meetings.

While the two were discussing how to do this, they consumed a great deal of alcohol, smoked marijuana and took Xanax. He then drove her to the agreed upon street and our client proceeded to approach almost 100 cars. Most were locked, but at least sixteen were not.
Our client, upon finding an unlocked car, would quickly open the door, reach into the car's center console, try to open the glove box and otherwise check for large items such as a purse or wallet laying in the car. She was able to find quite a bit of money and other items, which she quickly gave to her boyfriend in the waiting car nearby that he was driving.
Miraculously, our client was not caught at the scene, despite several car alarms sounding.
She somehow made it home and proceeded to pass out on the family's living room couch. She took with her several items, including credit cards, driver's licenses and other items belonging to other people.
Her father discovered her in the morning when he got up to read the newspaper and have a cup of coffee before work. His daughter literally had another person's credit card in her mouth as she lay sleeping. He took pictures of the items and poured through the bag of items she left on the coffee table nearby.
He was greatly disturbed and immediately called the police to report what he had found. The Torrance Police came to the house and spoke with our client, who did not remember anything about the previous evening. She had consumed too much Xanax, as well as alcohol and marijuana.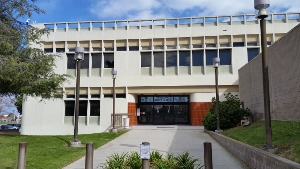 The police had already received multiple calls from car owners along the Torrance street and were happy to recover at least some items. Police then arrested our client and held her at the Torrance jail. The client's father called Greg Hill & Associates and descried the situation over the phone.

Greg then immediately went to the Torrance jail to speak with the client, who still could not remember what happened the prior evening.
The client's parents, angry at their daughter and well aware of her boyfriend's likely role, refused to post bail for their daughter. She was thus arraigned the very next day in Department 3 of the Torrance Superior Court. Greg Hill appeared on the client's behalf and argued for his client's own recognizance release, which the judge did grant, but with strict conditions that she obey a curfew from 7:00 p.m. to 7:00 a.m. and that she attend five alcoholics anonymous meetings per week.
Our client faced twenty misdemeanor counts of receiving stolen property, Penal Code § 496(a), as she was found at her home with twenty items belonging to others. Her boyfriend was never implicated or caught in connection with the crime.
Over the course of several months, Greg negotiated with the Torrance City Prosecutor a deal wherein sixteen of the twenty counts were dismissed, but our client did enter a plea to four counts of receiving stolen property and was placed on three years of summary probation. As a condition of probation, she was ordered to serve 45 days in county jail, attend 104 AA meetings, pay the City of Torrance booking fee of $349 and pay court fines of $440. She also was ordered to pay restitution for the car damage to any car owners who had damage to their cars.
The deal was reached in large part because the client did attend over 50 AA meetings and took an online theft prevention class. She also did not ever use any of the ATM cards or cash she took, as her father caught her before she could do so (if she had that plan or intent). She also had a supportive, if not strict, family who wanted to see their daughter return to being the bright young girl they knew.
Our client arranged to serve her 45 days of county jail at home through the Sentinel program.
It was a good resolution insofar as our client can complete probation and then have each charge expunged later.
For more information about the issues in this case, please click on the following articles:
Contact us.