Santa Monica, Dog Poop Issue, Attorney Fees Awarded
Our client had a neighbor who refused to pick up after her dog when her dog pooped, despite a City of Santa Monica municipal code section obligating the owner of a dog to do so. The neighbor consistently allowed her dog to relieve itself directly outside our client's kitchen and living room window, which was often open. The neighbor often walked the dog when she got up in the morning and then about 6:00 p.m., when she returned home from work.
Overview: Santa Monica, dispute between neighbors over dog poop, request for restraining order against our client denied, judge awards our client $1,000 in attorney fees.

Consequently, the smell from the dog's feces often permeated the interior of our client's home, especially in the morning hours when our client was eating breakfast and at night when our client was eating dinner.
As might be expected, our client was not happy with this. He repeatedly suggested to his neighbor that she pick up after her dog. When she failed to do so, our client would get a bag and walk out to the sidewalk area himself to do so for her to prevent the smell from entering his home.
This went on for months, with our client growing increasingly frustrated and feeling disrespected. Making matters worse, the neighbor seemed to always be on her cell phone while walking her dog, which discouraged our client from speaking to his neighbor, as he did not want to interrupt her conversation.
Finally, however, our client's patience ended and he began depositing the feces from his neighbor's dog on his neighbor's steps, rationalizing that if she did not mind placing such waste very close to another neighbor's home, she certainly would not mind it being on her front steps.
Such conduct by our client was quickly responded to by his neighbor, who filed a restraining order against our client, claiming harassment.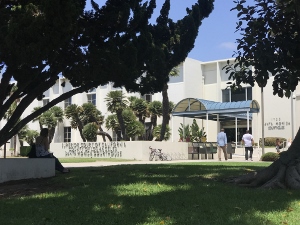 Santa Monica Superior Courthouse
Our office quickly got to work, assembling six declarations from other neighbors who had witnessed the neighbor at issue flouting local law by not picking up after her dog and had conversations with the neighbor who seemed defiant of the law. One neighbor was even lucky enough to film the dog walker (while again talking on her cell phone) not cleaning up after her dog even after she filed the request for a restraining order.
Our office then prepared a nine page brief in opposition to the restraining order, with another eight pages of declarations. Our office discussed how the neighbor had failed to meet the clear and convincing standards under California Code of Civil Procedure § 527.6 of stalking, harassment or threats of unlawful violence.
The neighbor was then served with this seventeen page document five days prior to the hearing on the restraining order. The opposition brief, which was filed with the court, included a cd-rom with a video of the neighbor allowing her dog to poop, as she talked on her cell phone, smoking a cigarette, and then she walked away.
The neighbor who asked for the restraining order then did not even show up at the hearing for the restraining order she requested. The judge awarded our client $1,000 in attorney fees as the prevailing party. Our client was very happy.
For more information about the issues in this case summary, click on the following articles:
Watch our video about restraining orders by clicking
here
.
Contact us.