San Fernando, Veteran, Two Years of Prison Set Aside
Our client served our country as a member of the U.S. Army. He was medically discharged due to a traumatic brain injury (TBI) he suffered while in the service, as well as post-traumatic stress disorder (PTSD), as well as a mood disorder that seemingly followed the head injury. These things were diagnosed in writing multiple times before he left the service.
In a Nutshell: San Fernando Court, client's plea agreement to two years in prison set aside by our motion to set aside the plea, client enters military veteran's treatment program instead.

He also had extensive scarring on his head and face, which he partially covered over with a beard and mustache. His disability was documented as being service-related and rated as a 60% disability.
After being discharged, he worked at the VA (Veteran's Administration), assisting other veterans who had chemical dependency issues. He was also personally familiar with our courts, as he served a year in prison for a felony domestic violence conviction after leaving the service.
In early 2012, he was arrested by police in San Fernando and found to have sixteen grams of methamphetamine powder in his possession. He also had a scale and several hundred dollars in cash on him. He was charged in the San Fernando Valley Superior Court with a violation of Health and Safety Code § 11378, possession of a controlled substance (methamphetamine) for sales.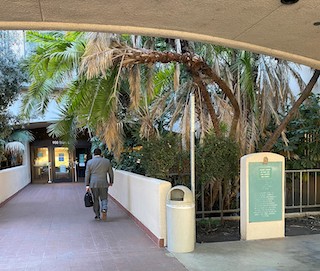 San Fernando Courthouse
Our client initially opted for the public defender. The client then repeatedly told the public defender that he was a disabled veteran and that there was a diversion program he could be placed into. Each time, the public defender thanked our client for his service and urged the client to enter a plea bargain to sixteen months in state prison.
The client's girlfriend even brought medical records of the client, showing his disability rating and stating that the disability was service-related. Both the girlfriend and the client asked the public defender if there was some type of veteran's assistance program that the client could be ordered to avoid prison, just so the public defender would find out the answer and then attempt to have the client placed into it. The public defender said "no." This was wrong legal advice.
The client's girlfriend then called Greg Hill, who said "yes" to the same question. The problem, however, was that the client had already entered a no contest plea to the Health and Safety Code § 11378 charge. Sentencing, however, was put over for a month for the client to arrange his affairs before tendering himself for two years in state prison.
During this month, the client and his girlfriend came to visit Greg, who explained what a Penal Code § 1170.9 program is for military veterans with a 10% or higher service-related disability. Greg then drafted a Motion to Set Aside the Plea and filed it with the San Fernando Valley court. The motion included a declaration by the program administrator of a suitable program for our client (at the VA no less), stating that the program had space for our client and they could pick him up directly from the court and enroll him immediately. This declaration with a statement that they can pick him up directly from the court is important because the judge feels more comfortable allowing such a program if he or she sees the client being taken there, rather than making this big step dependent upon the client finding transportation, etc.
The District Attorney on the case was sympathetic to the case and after several appearances, finally agreed to allow our client to submit to a one-year, residential drug treatment program at the Veteran's Administration facility in Westwood. The motion was then not actually ruled upon at all, but there was a modification of the sentence, worked out with the judge's consent.
The client was extremely thankful, as he could see his children while undergoing treatment and such a program would address his chemical dependency issues, which prison perhaps may not.
For more information about military veterans treatment programs and a motion to withdraw a plea, click on the following articles:
Watch our Video about Drug Offenses by clicking
here
.
Contact us.