Resentencing Military Veterans, Indeterminate Sentences?
California Penal Code § 1170.91(a) states that "If the court concludes that a defendant convicted of a felony offense is, or was, a member of the United States military who may be suffering from sexual trauma, traumatic brain injury, post-traumatic stress disorder, substance abuse, or mental health problems as a result of his or her military service, the court shall consider the circumstances as a factor in mitigation when imposing a term under subdivision (b) of Section 1170."
Why This Article Matters: A petition for resentencing for veterans under Penal Code § 1170.91(b) (AB 865) is not allowed if the sentence was an indeterminate sentence.

Subdivision (b)(1) of § 1170 allows a current or former service member to petition the court for resentencing if the person meets both of the following conditions:
"(A) The circumstances of suffering from sexual trauma, traumatic brain injury, post-traumatic stress disorder, substance abuse, or mental health problems as a result of the person's military service was not considered as a factor in mitigation at the time of sentencing; and


(B) The person was sentenced prior to January 1, 2015."
The intent of the statute is for courts to consider a low-term determinate sentence for such former service members who paid dearly for their service to the country. People v. Bonilla-Bray (2020) 49 Cal.App.5th 234, 236, 238.
Paul Estrada was convicted in Solano County Superior Court of second degree murder (Penal Code § 187(a)) and admitted using a deadly weapon enhancement allegation (Penal Code § 12022(b)) for his use of a knife.
He was sentenced to an aggregate term of sixteen years to life, which is not a determinate sentence. There was a fifteen-year to life term for second-degree murder and one year for the use of a deadly weapon.
In 2019, Estrada filed a petition in propia persona seeking resentencing under 1170.91. In support of his petition, he submitted evidence of his military service and his substance abuse, which he alleged began during his military service.
The Solano County Superior Court judge hearing the petition, Carlos Gutierrez, ruled that Estrada was statutorily ineligible for resentencing because he was serving an indeterminate sentence.
Estrada then appealed this ruling to the First Appellate District, which affirmed Judge Gutierrez in People v. Paul Estrada (2020 DJDAR 132397).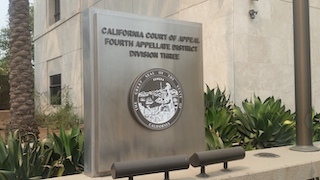 Fourth Appellate District CA Court of Appeals Santa Ana
We bring this summary of the appellate court's ruling to the reader's attention because it shows how AB 865, the new military resentencing law codified at 1170.91, has limits in what it applies to, which we have found many callers to our office overlook. They are quite confused when we tell them it does not apply to indeterminate sentences such as exemplified in this case.
Estrada argued that 1170.91 applies to indeterminate sentences, but the First Appellate District responded, "The plain language of the statute is clear: a petitioner meeting 1170.91(b)(1)'s requirements may obtain resentencing pursuant to subdivision (a)."
Subdivision (a) states that the court shall consider mitigating factors related to defendant's military service when imposing a term under subdivision (b) of 1170. In other words, section 1170.91 only applies to determinate terms imposed under 1170(b). See People v. King (2020) 52 Cal.App.5th 783, 786 (1170.91(b)(1) only provides for resentencing to those sentenced to a determinate term).

Section 1170(b) describes the sentencing court's discretion to choose an aggravated, middle or lower term based on consideration of mitigating and aggravating factors.

In contrast, the statute governing punishment for murder provides that, with exceptions not applicable to Estrada's case, "every person guilty of murder in the second degree shall be punished by imprisonment in the state prison for a term of 15 years to life." Penal Code § 190(a). It is a mandatory sentence. Sentences of life imprisonment and sentences for a number of years to life, such as Estrada's term for second degree murder, are not subject to determinate sentencing.

Estrada argued alternatively that he should be resentenced to voluntary manslaughter, a lesser offense of murder. Voluntary manslaughter is punishable by a determinate term. However, Estrada pled no contest to second degree murder. The First Appellate District said it did not have authority in considering an 1170.91 resentencing petition to modify a judgement so that he is convicted of a lesser crime. "Had the Legislature intended this result, it would have said so. It did not."
The citation for the First Appellate District Court ruling discussed above is People v. Paul Estrada (1st App. Dist., 2020) 58 Cal. App. 5th 839, 272 Cal. Rptr. 3d 793.

For more information about AB 865 and a Petition for Resentencing of a Military Veteran under Penal Code § 1170.91, please click on the following articles:
Contact us.