Redondo Beach, Robbery Using Knife, Home on Probation
Our juvenile client (age 15) was charged with two counts of armed robbery (Penal Code § 211), a felony, and one count of carrying a dirk and dagger (Penal Code § 12020(A)(4)), also a felony. The case was brought in the Inglewood Juvenile Court.
The alleged victims of the robberies, in a Redondo Beach park, claimed that our client had threatened to beat them up if they did not hand over a cell phone and a bicycle. The victims gave up their cell phone and surrendered the bike to our client, who took it and rode off.
About two hours later, our client was detained by the Redondo Beach police and when searched, they found in his pocket a knife with a blade approximately five inches long. Our client was riding the stolen bicycle and had the stolen cell phone in his pocket. The cell phone and bicycle were returned to the rightful owners, who themselves were young teenagers. Police then arrested our client and took him to the Redondo Beach Police Station.
The Point of This Summary: Client already on probation commits armed robbery in park using a knife. Case filed in Inglewood Juvenile Court. Case resolved with home on probation (HOP) although judge first recommended incarceration at California Youth Authority.

At the time, our client was already on home on probation (HOP) for an earlier shoplifting incident.
Our client was a bright young man with potential to go on to a four-year college, however, he had begun associating with a bad group who abused alcohol and several other types of drugs, including meth and Xanax. Our client's family was in the midst of battling serious health issues of our client's father and, to make matters worse, both parents were employed in the real estate industry, which was experiencing the worst downturn in eighty years.
Our client, however, had a mature approach toward the descent he had entered into from once straight-A student. With his family's full support, he checked himself into an in-patient drug treatment center in Lancaster for six weeks and seemed to be "fixing" his judgment and self-discipline. It was remarkable to see a fifteen-year old initiate this himself and seem to realize the significance of his downward spiral.
The Inglewood Juvenile Court judge hearing the case recommended the California Youth Authority for our client, citing to his multiple serious charges and drug/alcohol abuse. The judge described him as in "a death spiral." He could see that a sense of urgency was needed to rehabilitate him away from his friends and the temptations of his neighborhood.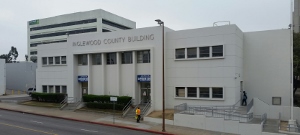 Inglewood Juvenile Courthouse
Greg Hill of Greg Hill and Associates, however, was able to convince the judge to allow our client to remain on HOP (home on probation) so he could take the SAT and have the chance to escape the local area, which was ripe with opportunities for the client to get into trouble.

The judge, skeptical at first, then agreed to allow such an arrangement. Greg knew that this particular judge had two children in high quality local colleges, so she would appreciate the value of taking the SAT and the opportunities it could open for our client.
The District Attorney then allowed a disposition of the case pursuant to a plea bargain wherein she would dismiss one count of robbery and the carrying a dirk and dagger, but our client would plead no contest to the remaining count, which was one count of robbery, a strike no less, to be released home on probation.

Our client's parents were extremely happy. Pursuant to the terms of the plea, he would have to perform 100 hours of approved community service and write an essay for the judge about theft and drugs and why each were illegal. The estimated time period to be home on probation was one year. During that time, he would have monthly in person meetings with the probation officer in the Torrance juvenile probation department.
The client was very happy, as the client avoided a disruption in his school and was able to keep alive his chances of attending a four year college.
For more information about the issues in this case summary, click on the following articles:
Contact us.