Redondo Beach, Possession of a Loaded Firearm by a Felon
Our client, age 23, moved out to Redondo Beach from Arizona with his girlfriend, age 38. His girlfriend had four kids, the oldest being 18 years old. Our client's girlfriend was originally from Redondo Beach, but had moved away after high school.
Our client had grown up in rural New Mexico, where having guns was a more common occurrence than in a suburban area. He was arguably a little too casual with how he carried his firearms, especially because he had an affinity for heroin and marijuana.

In Arizona, he had been cited for possession of marijuana for personal use of less than two pounds of marijuana, a felony. In New Mexico, he had an open case for improper possession of a firearm and once New Mexico found out about his Arizona case arising while he was out on bail in New Mexico, New Mexico issued a bench warrant for violation of the conditions of bail. Arizona then found out about the New Mexico case and issued a bench warrant, too.
In Redondo Beach, where he had moved with his girlfriend for work, he was pulled over for making an illegal right turn. This happened almost directly in front of the Redondo Beach police station as he was turning right off Pacific Coast Highway.

Police first asked him for his driver's license and our client told officers that he did not have a driver's license. Police then asked him his name and he gave them a fake name, but then corrected himself and gave officers his correct name. They then asked if he had any weapons in the car and he told them there was a gun in the backseat, although the weapon actually was not his, but his girlfriend's gun.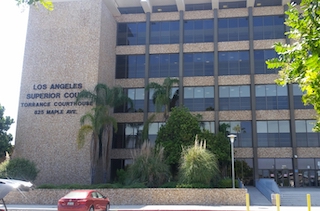 Torrance Courthouse
Police then opened the back door of the car and found a loaded handgun which was not registered to our client at all (and it was not registered to his girlfriend, either, suggesting it was stolen).

Police then patted down our client and found about ten grams of heroin in his pocket.
The client was then arrested for carrying a concealed firearm, a violation of Penal Code § 25400(a)(1). This is a felony punishable by sixteen months, two years or three years in state prison. He was also arrested for possession of a controlled substance while having a loaded firearm, a violation of Health & Safety Code § 11370(a) and being a felon in possession of a firearm, a violation of Penal Code § 29800(a)(1). It is worth noting for the reader that being a felon in possession of a firearm's definition includes facing a felony warrant, which our client faced out of Arizona. Lastly, our client was cited for resisting, delaying or evading arrest under Penal Code § 148(a)(1), a misdemeanor. Bail here in Los Angeles County was set at $35,000.
Nearly four weeks after the client was first in custody here, the client's girlfriend and her father called our office and explained how the young man was being held with a hold asserted by just New Mexico, but as we found out later, also Arizona.

The arraignment took place in Torrance and Greg appeared, while trying to speak with the prosecutor in New Mexico first to try to resolve the case over the phone, or at least request that the judge in New Mexico agree to accept our client's promise to appear there and release the bail hold here. Our office also spoke with the Arizona prosecutor, who advised that the warrant on our client here was only, interestingly, if our client was in Arizona (suggesting if he left Arizona, the warrant was no longer a hold).
Our office further negotiated with the Torrance District Attorney handling the case, who first wanted three years and four months in state prison (although our client's exposure was eleven years total in state prison). However, with some negotiating and explaining ownership of the gun and why he was here (to work), Greg was able to negotiate the deal down to sixteen months in state prison (to be served in county jail) and then negotiated it down once again to three years of formal probation with forty-five days of community labor.

While negotiating this deal, Greg was in further contact with New Mexico, who also advised that their warrant for the client, like Arizona's, was only "in state" so the hold on our client here was a mistake by the jailers here.

Getting this type of information from each state and negotiating this deal for our client led to the client's release from jail here after 31 days of actual time in custody. The client, his girlfriend and her father were very happy with our quick work on negotiating a deal with no further custody time and resolution of the holds supposedly asserted by both New Mexico and Arizona, holds that really were not effective here had Los Angeles County Sheriffs inquired further.
Our client was happy to be released and get to work, earning money to travel back to Arizona and New Mexico to resolve the outstanding cases there.
For more information about being a felon in possession of a firearm, please click on the following articles: