Redondo Beach, DUI Probation Violation for 16 Years
In the year 2000, our client, then 22, was convicted for DUI after an arrest in Redondo Beach. She entered into a plea bargain to DUI and was placed on three years of summary probation. She was ordered, as terms of probation, to enroll in and complete a three-month alcohol awareness program (AB541) and pay court fines of $390, plus penalties and assessments ($1,140 total back in 2000).
Summary: Client had two misdemeanor bench warrants from the Torrance court, one involving DUI, from 16 years earlier. Client living in Brazil for last 16 years. Client contacts Greg Hill & Associates and Greg appears in the Torrance courthouse on each case, has client reinstated on probation with permission to take DUI classes online. Client then pays outstanding court fines, completes the DUI classes online and probation terminated.

Our client did none of this. She moved to Brazil and seemed to forget about this case, as well as another open case for driving on a suspended license that was suspended due to a DUI (Vehicle Code § 14601.2). In each case, both out of the Torrance Courthouse, the judges issued bench warrants for her arrest. In her DUI, her probation was revoked after just two months of her being on probation.
In 2016, she called Greg Hill & Associates to take care of these two cases. She wanted to visit the United States, but was aware that with two bench warrants for her, she would be at least held up at customs when she visited the United States and possibly transported to Torrance to address each case.
When she called Greg Hill & Associates, Greg Hill explained that the judge may not recall the bench warrants because of the sixteen years that had passed. After all, it appears as if the client had expected the court to give up looking for her or simply had no intention of ever fulfilling her promises made as a term of probation in lieu of county jail time.
However, Greg explained that there was also a chance that the judge would kindly recall the warrant without her appearing, but that it was more likely to do so if the client came forward through counsel with a check to pay the court fines, or perhaps proof of completing another term of probation.
The client stated she agreed to this approach and retained Greg Hill & Associates. Greg suggested the client provide Greg $1,140, the court fees payable as a term of her DUI probation.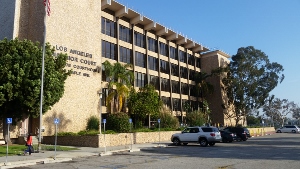 Torrance Superior Courthouse
Greg then did appear on the client's behalf in the Torrance Superior Court and had both warrants recalled while she remained south 6,300 miles away in Rio de Janeiro in Brazil. The judge was pleased to receive the $1,140 in court fines long overdue. Greg then requested permission for the client to fulfill the AB541 program requirement by taking an online DUI class that specifically satisfied the California AB541 curriculum requirements. Greg suggested Tom Wilson Counseling and the judge approved this.
As to the driving on a suspended license case, since our client had appeared and then fled the jurisdiction, a
Serna
motion for deprivation of her right to a speedy trial would be denied by the judge. The Torrance City Prosecutor's proposed plea bargain to resolve the case was somewhat tough – three years of summary probation and a $300 fine, plus penalties and assessments (meaning $1,519). Our client, after all, had been driving on a suspended license due to her DUI, so she accepted this plea bargain.
The client then also did complete the online DUI class. Greg then returned to the court and showed the judge not only the client's proof of payment of the court fines on the DUI, but also her certificate of completion of the AB541 program online. The judge then reinstated probation and terminated it, meaning the client actually only served two of the thirty-six months of summary probation.
She then entered a plea bargain on the driving with a suspended license (involving a notarized
Tahl
waiver form, Fed-Ex'd to and from Rio de Janeiro). Greg then paid the court fees of $1,519 on that case, finally putting an end to the client's sixteen years of having bench warrants hanging over her head.
She was happy to have both cases resolved without her needing to leave Brazil and return to the United States and being taken into custody. She could now enter the United States without concern of being detained for either of these two old cases.
For more information about probation violations, please click on the following articles:
Contact us.