Redondo Beach DUI, 0.18% BAC, Resolved for 3 Month DUI Course
Our client and his girlfriend had been at Staples Center in Downtown LA for a Lakers game. They were returning home in their separate cars along westbound 190th Street through Torrance and then along the border between Hermosa Beach and Redondo Beach.
Unbeknownst to our client, age 35, a Redondo Beach Police Officer was following our client as he drove along. He then came to a red light at the top of one hill where 190th Street intersected with Prospect Avenue. Our client looked down at his cell phone for a few seconds. The light turned green for him, but he did not know it because he was looking down at his phone.
Summary in 50 Words or Less: Client stopped for DUI along westbound 190th after police observe him twice failing to move forward quickly enough in response to a red traffic light turning to green. Client had a 0.18% BAC and this was his first DUI. Case filed in Torrance and resolved for three-month DUI program.
He looked up and moved forward, somewhat embarrassed because he knew there was a car ahead of him. He then came to the intersection of 190th Street and Pacific Coast Highway. At this intersection, he again faced a red light and he again looked down at his phone. The light turned green again and he missed the instantaneous change of the color. He again looked up when the light was green and quickly moved forward.
The client was very embarrassed and accelerated up to the speed limit quite quickly. The police officer behind him decided to pull him over for "moving too slowly" in a lane of travel due to his waiting for a few seconds each time the light turned green.

Once the officer pulled over our client, he claims he "immediately detected the strong odor of an alcoholic beverage" and asked our client if he had been drinking. The client answered that he had at Staples Center earlier in the evening.
The officer then administered a Preliminary Alcohol Screening (PAS) Test at the scene, but without waiting the full fifteen minutes before giving the test. Our client's blood alcohol content was measured at 0.18%.
The client then submitted to a further blood test after being arrested and his blood was measured at the same level of alcohol content. As the reader of this summary may know, such a high blood alcohol content means the driver must enroll in and complete a nine-month alcohol awareness program because the BAC is 0.15% or above.
The case looked somewhat grim for getting a good offer because our client had a prior conviction for public intoxication (Penal Code § 647(f)) from six years earlier. In other words, it was to be expected that the Redondo Beach City Prosecutor's Office would see the DUI as basically another example of irresponsible alcohol use and seek to impose a sentence that was the maximum allowed.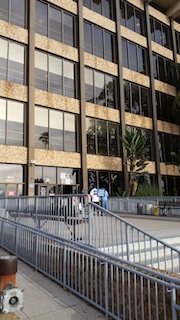 Torrance Courthouse
At the arraignment in the Torrance Superior Court, Greg Hill appeared on the client's behalf so he could stay at work. The Redondo Beach City Prosecutor smirked, "I bet he was looking at his phone when the light turned green both times." Greg sighed, "How did you know?" The Redondo Beach City Prosecutor then paused, "Well then, he is showing impaired cell phone use, not impaired driving. How about a three month DUI program instead of the nine month program?"
Greg quickly agreed, adding that if the prosecutor needed anything else to write in her file as to why she reduced the program to three month duration, she could note that the PAS test was done before the officer had time to continuously observe the suspect for fifteen minutes and there was absolutely zero chain of custody for the blood sample.
The client gladly accepted the terms of the plea bargain, pleased that he would save about $500 on the shorter program over the longer program. When the plea was entered, the prosecutor struck the 0.15% or higher BAC special allegation so that our client would not face a DMV requirement that he attend the nine-month program even though the plea bargain included just the three-month program.
In addition to the shorter DUI program, the client's plea bargain included a fine of $390, plus penalties and assessments, attendance at the Mothers Against Drunk Driving (MADD) Victim Impact Panel (VIP) and payment of the Redondo Beach booking fee.
For more information about DUI in general, please click on the following articles:
Contact us.