Probation Violation, Drug Sales, No Jail, Airport Courthouse
Our client, age 22, had picked up a conviction for violating Health and Safety Code § 11379, sale of a controlled substance, three years ago. The terms of probation were that she perform forty-five days (360 hours) of community service, pay court fees through felony probation and register as a narcotics offender. The case was out of the Airport Courthouse.
Immediately after being sentenced, she did report to her probation officer and was told what her plea required. Our client was pregnant at the time and soon, the complications from her pregnancy prevented her from performing any community service.
In a Nutshell: Client violates terms of felony probation out of Airport Courthouse by not registering as a narcotics offender, performing even one hour of 45 days of community service (360 hours) or paying approximately $3,500 in probation fees. Bench warrant was outstanding for three years. She then picks up domestic violence case in Torrance. Greg Hill gets involved, client performs all 45 days of community service & registers as a narcotics offender. Probation violation with 30 more days of community service, but not one day of prison or jail.

She did not know what to do and simply did not explain her situation to her probation officer. In fact, after her first visit with the probation officer, she never checked in again and changed her phone number (in part because the father of her baby went to prison). She never went back to her probation officer to try to start on the community service or go to her local police station to register as a narcotics offender.
The judge in the Airport Courthouse issued a bench warrant for our client when our client failed to appear for a progress hearing on her community service. This was about six months after she entered her plea. She had no idea that there was a bench warrant out for her.
She became aware of the bench warrant when police arrested her following a domestic violence incident in Torrance involving the father of her second child (not the same person as the father of her first child). When she was told of the bench warrant, police released her based on her promise to appear in the Airport Courthouse in three weeks. They recommended she retain an experienced criminal defense attorney to handle both her Airport and Torrance cases.
The client spoke with several friends, one of which had retained Greg Hill & Associates in the past and recommended us to the client. The client then called Greg Hill & Associates and spoke with Greg Hill. She called Greg Hill at approximately 8:00 p.m. on a Sunday evening and spoke to Greg for over an hour. Greg explained that the judge could believe he had to impose prison time (to be served in county jail under AB109) because she had specifically chosen probation to avoid prison, but then breached her promise to do certain things if allowed probation.
Greg recommended that she attempt to register as a narcotics offender immediately and, likewise, begin to perform community service prior to coming to court.
She then retained Greg Hill & Associates and Greg appeared with her in the Airport Courthouse first. The client had done nothing that Greg recommended. The judge was not happy that our client had done absolutely nothing in the prior three years.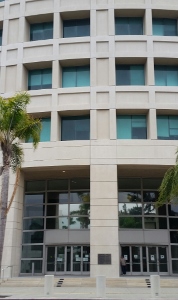 Airport Superior Courthouse
Greg asked that the judge recall the bench warrant and asked for the judge to issue a re-enrollment order for our client to begin her community service. The judge kindly did so and explained to the client how to register as a narcotics offender. Greg asked that the judge delay on any type of probation violation hearing until after the Torrance case could be resolved.
The judge then set a progress hearing approximately two months later, not only to find out how our client was progressing on community service, but also concerning resolution of the Torrance case.
Sixty days later, our client appeared with documentary proof showing she had completed all 45 days of community service. The judge was extremely happy with this. The client also registered as a narcotics offender and brought proof of this to court to show the judge.
However, the client had paid none of the probation fees, which were about $3,500.
The judge set a further progress hearing 60 more days in the future. At that hearing, Greg was able to report that the Torrance domestic violence case had been resolved for disturbing the peace and the domestic violence charges were dismissed.
The court then held a probation violation hearing and found our client in violation of probation, due to her conviction in Torrance. He stated that he was not happy with the client's first three years of probation, as she showed no intent to fulfill any of the duties of probation that she promised to perform. He said it appeared that the only reason she performed was because she was facing serious time in prison (to be served in county jail under AB109).
However, he kindly did not impose any time in prison (or county jail). Instead, he sentenced our client to 30 more days of community service. With two young children, our client was extremely relieved not to be remanded into custody.
For more information about probation violations, please click on the following articles:
Contact us.