California State Prisons
PRISON PROFILE LISTS FOR VALLEY STATE PRISON (VSP) TO WASCO STATE PRISON - RECEPTION CENTER (WSP)
VALLEY STATE PRISON (VSP)
21633 Avenue 24, Chowchilla, CA 93610, (559) 665-6100
Valley State Prison used to be formally called the Valley State Prison for Women, a female-only prison. It has since changed its name to just Valley State Prison and now, since 2012, includes mostly low security level male inmates, but also some female inmates. Included within the female population are pregnant inmates, transferred to Valley State Prison due to their condition.
It houses inmates of all security levels, including Level IV (maximum security). It is across the street from the more famous Chowchilla State Prison, one of California's few female-only prisons.
The prison, built and opened in 1995, is located about 250 miles north of Los Angeles, or 20 miles north of Fresno along Route 90, near the City of Madera. Valley State Prison houses 1,627 inmates (1,353 males and 274 females), below its stated design capacity of 1,980 inmates. In the past, it has housed over 2.400 prisoners at one time.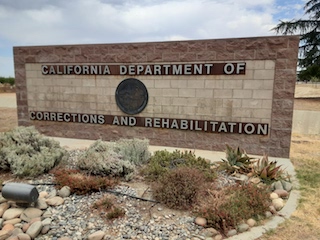 CA Valley State Prison
The prison used to have a wide range of vocational and academic programs, but many were stopped with budget cuts in 2009. This has been the subject of intense criticism because one statistic calculated was that the recidivism rate from those leaving Valley State Prison was 72% (according to the Madera County Board of Supervisors in 2011). However, prisoners still have access to traditional programs such as Alcoholics Anonymous (AA), Battered Women, Domestic Violence and Narcotics Anonymous (NA).
Two of the most notable prisoners who have served time there are Larissa Schuster, who was sentenced to life in prison without parole for murdering her husband by submerging his body in hydrochloric acid, and Julia Diaz, who was the first female prisoner to be denied parole under Marsy's Law for the murder of a seven year old boy in 1979.
WASCO STATE PRISON - RECEPTION CENTER (WSP)
701 Scofield Avenue, Wasco, CA 93280, (661) 758-8400
Wasco is a well-known reception center prison because it is where many inmates are first sent for processing before being placed in a more permanent prison. This can take anywhere from a week to 90 days.
At Wasco, inmates are evaluated physically and mentally, to determine their security level, program requirements (i.e. AA, NA, anger management, medical needs, etc.) and then an appropriate placement location. The prisoner is then transferred to another prison, which will probably be a more permanent location. So if your loved one is said to be in Wasco, that should be appreciated as a temporary location only.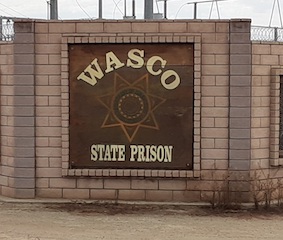 CA State Prison Wasco
Wasco was built in 1991. It houses approximately 5,230 inmates, which is roughly 1.7 times its calculated design capacity of 2,984.
Wasco is located in Kern County, about 140 miles north of Los Angeles. It is about 20 miles north of Bakersfield. The layout of the prison is an exact replica of the North Kern State Prison in Delano. It is surrounded by farms in each direction, making it seem out of place or at least conspicuous in its surroundings.
Visiting hours, which are subject to change and affected by lockdowns, are 8:00 a.m. to 2:45 p.m. Saturdays and Sundays. On holidays such as Thanksgiving, New Year's Day, Christmas Day and the Fourth of July, visiting hours are from 8:00 a.m. to 2:30 p.m.
One can arrange a visit by appointment there by calling (661) 758-8400, ext. 7864, Monday through Thursday from 9:00 a.m. to 3:00 p.m. One should not leave a message for appointments. Talk to someone instead.
For a complete list of prisons please click here.