California State Prisons
PRISON PROFILE LISTS FOR CALIFORNIA CORRECTIONAL INSTITUTION (CCI) TO CALIFORNIA INSTITUTION FOR WOMEN (CIW)
CALIFORNIA CORRECTIONAL INSTITUTION (CCI)
24900 Highway 202, Tehachapi, CA 93561, (661) 822-4402
Opened in 1932, this prison is a "Supermax" prison located about 35 miles south east of Bakersfield and 45 miles north of Los Angeles, near Lancaster and Edwards Air Force Base. It about six miles east of Tehachapi and twenty miles east of Mohave. Many people know the prison as "Tehachapi" or "Tehachapi prison."
The prison is situated at 4,000 feet in elevation, so it does receive snow occasionally in the winter. As of March, 2012, it housed about 4,800 prisoners, or about 165% of its design capacity of 2,783. The sheer number of prisoners has helped the local economy of Tehachapi, as many employees of the prison live in this town.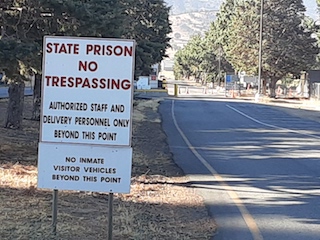 CA Correctional Institution
The prison was built in 1932. It was originally an all-women prison, but in 1954 became men-only. It was featured in the film "Maltese Falcon," starring Humphrey Bogart as investigator Sam Spade in the 1940's and also in "The Postman Always Rings Twice." Lyle Menendez, who was convicted of murdering his parents for an inheritance in the early 1990's, was sent to CCI on a life without the possibility of parole sentence, as was celebrity chef Juan Carlos Cruz, in 2010, for solicitation of murder. Glamour aside, this is a rough and tough place.
CALIFORNIA HEALTH CARE FACILITY (CHCF)
7707 Austin Road, Stockton, CA 95215, (209) 467-2500
This facility provides medical and mental care to inmates who have the most long-term care needs. It provides treatment for up to 1,772 inmate-patients. The facility itself is located in South Stockton. The facility, which does have an electrified fence surrounding it because it does provide medical and mental care to even murderers, just opened in July of 2013. Stockton is a city about 340 miles north of Los Angeles and about 90 miles east of San Francisco.
CALIFORNIA INSTITUTION FOR MEN (CIM)
14901 Central Avenue, Chino, CA 91710, (909) 597-1821
This is a male-only prison in San Bernardino County. It is the state's largest Level 1, minimum security prison (no perimeter fence), although it also houses maximum security prisoners, has a 100 bed HIV/CID unit and a mental health unit.
The prison serves as an intermediate stop for those sentenced to prison from Orange, San Bernardino, Riverside and San Diego County, as well as those transferred to prison from the Pitchess Center in Los Angeles County. Prisoners will be transferred to CIM before moving on to their ultimate prison destination.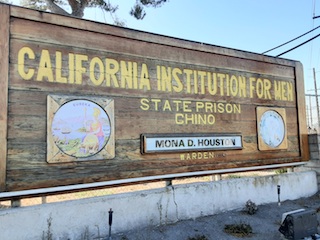 CA Institute for Men
The prison was built in 1941. It is the third-oldest state prison. It houses over 5,000 prisoners.

In 2004, a nearly twenty-year prison guard there was found guilty of distributing drugs to prisoners who were members of the Nazi Lowriders, a white supremacist group. In 2009, there was a prison riot there and over 250 prisoners were injured. The riot broke out between African American and Hispanic prisoners and over 50 of the injured prisoners were sent to local hospitals. The prison was featured in the 1998 Hollywood movie, "American History X" involving Edward Norton. The film, about two brothers involved in a Neo-Nazi movement, showed graphic violence.
CALIFORNIA INSTITUTION FOR WOMEN (CIW)
16756 Chino Caroni Road, Chino, CA 92880, (909) 597-1771
This women-only prison was built in 1952. It houses approximately 2,000 inmates, although its design capacity is 1,356 inmates. It houses low level (Level 1 inmates), which involves no perimeter fences, as well as Level III inmates, which involves individual cells and armed guards.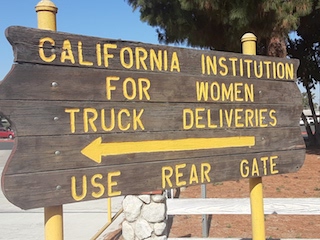 CA Institute for Women
The prison provides substance-abuse counseling, forestry, art and a wide variety of inmate self-help groups. The prison houses female prisoners with special needs, such as those who are pregnant and suffering from HIV, psychiatric problems and methadone dependency. Patricia Krenwinkel and Leslie Van Hooten, both part of Charles Manson's group, are housed in CIW
For Prison Profile Lists for California Medical Facility (CMF) to California Rehabilitation Center (CRC) please click here.