Penal Code § 1170.91(b) Resentencing (AB 865) Limitations
In March of 2015 in Orange County Superior Court, Alexander Irwin Valliant was sentenced to twelve years in state prison after pleading guilty to second-degree robbery (Penal Code §§ 211, 212.5(c)) and admitting that he personally used a firearm in the commission of the robbery.

The Reader's Digest Version: Resentencing of military veterans under AB 865 has two key limitations that are often overlooked. First, the veteran must have been sentenced to a determinate sentence by the judge, not through a plea bargain. Second, the date of the sentence must have been before January 1, 2015, not after.

Valliant was also charged with criminal threats (Penal Code § 422(a)), carrying a dirk or dagger (Penal Code § 21310), carrying a loaded firearm in public (Penal Code §§ 25850(a), (c)(7)) and driving on a suspended license (Vehicle Code § 14601.1(a)), all stemming from an incident in September 2014.

After an unsuccessful attempt to have the matter transferred to Veteran's Court (Valliant was a veteran), most likely because the crime involved acts of violence, Valliant entered into the above plea bargain for a twelve-year prison term and the other counts were dismissed. The sentence consisted of two years for the second-degree robbery (low term), plus ten years for the gun enhancement.

Valliant apparently suspected that he suffered from post-traumatic stress disorder (PTSD) at the time he entered his guilty plea and was sentenced in 2015, but it was not until 2017 that the Department of Veterans Affairs (VA) verified his PTSD and opioid abuse disorder, both stemming from his military service.
In April 2019, Valliant then filed a petition for resentencing under Penal Code § 1170.91(b) (Assembly Bill 865) asserting that his PTSD and opioid abuse disorder were not considered as a factor in mitigation when the court sentenced him. Valliant also asked for resentencing on the gun enhancement (Penal Code § 12022.5) under SB 620 if the court were to resentence him first under 1170.91(b).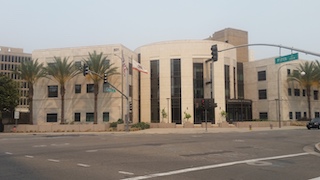 4th Appellate District Div 3 Orange County
The Orange County Superior Court judge, Derek Guy Johnson, assigned to the matter denied the petition on the basis that 1170.91(b)(1)(B) authorizes resentencing relief only for persons who were sentenced before January 1, 2015, so on its face, the statute would not apply to Valliant because he was sentenced after the eligibility ended, in March of 2015.
Valliant then appealed this ruling to the Fourth Appellate District in Santa Ana, which affirmed Judge Johnson.
Valiant argued on appeal that 1170.91(b) applied to all veterans whose service-related trauma was not considered at their initial sentencing, without regard to when that sentencing took place.

The reader should note that the problem with this argument is two-fold. First, it ignores the January 1, 2015 deadline that the statute set. Second, if such an argument were accepted by the appellate court, veterans would be encouraged to not introduce evidence of a service-related disability and negotiate for the lowest possible sentence. Then, later, the veteran could file a petition for resentencing and seek an even lower sentence, which could frustrate judicial economy.
The Fourth Appellate District seemed to agree. It noted that (b)(1)(B) "unambiguously" specifies that its resentencing relief is limited to cases in which "the person was sentenced prior to January 1, 2015." Additionally, the statute further specifies that "this subdivision shall apply retroactively, whether or not the case was final on January 1, 2015."

In other words, subdivision (b)(1)(B) set for a substantive requirement for resentencing relief – that the person must have been sentenced prior to January 1, 2015 – while the second sentence governs the retroactive effect of the provision. The second sentence suggests that the January 1, 2015 deadline is a "bright line" limitation, meaning Valiant's interpretation of 1170.91(b) was incorrect.

We bring this summary to the reader's attention to emphasize how important it is for defendant and/or his or her counsel to bring mitigation material related to service-related mental trauma or conditions for consideration in sentencing when that defendant is a current or prior servicemember. If it is not brought after January 1, 2015, it cannot be later introduced with a request for resentencing, as this summary shows.

We also wish to point out that the sentencing court really could not lower Valliant's sentence without striking the gun enhancement, as his sentence of two years for the second-degree robbery was as low as is possible. It cannot be any lower. The same applies for the gun enhancement – it cannot be lowered to, for example, five years. It must be stricken if changed at all.

In other words, what did Valliant realistically really expect? Given the number of charges he faced that were already dismissed, we believe that even if the judge were to waive the January 1, 2015 requirement, the judge probably would not have lowered the sentence anyways. A good criminal defense attorney needs to advise the client of this situation before accepting a retainer fee in such a case because there may not be any chance of success in such a case like this regardless of Valliant's eligibility for relief.
The citation for the Fourth Appellate District Court ruling discussed above is People v. Alexander Irwin Valliant (4th App. Dist., 2021) 55 Cal. App. 5th 903, 269 Cal. Rptr. 3d 839.
For more information about a petition for resentencing for a military veteran, please click on the following articles: