Norwalk, Employer vs Employee Restraining Order Denied
Our client worked for a dietary products company owned by a Bangladeshi family. Our client was Hispanic and so the family owners believed they were intellectually and academically superior to our client. He was therefore subject to all forms of patronizing comments, sarcasm and disrespectful treatment.
The demeaning atmosphere caused him to lose sleep, suffer anxiety and put on almost forty pounds in one year. Finally, his work quality suffered and he was terminated, perhaps just as the owners expected.
Summary in 50 Words or Less: Employer anticipated a wrongful termination lawsuit from our client based on comments he made during his exit interview, so it filed a petition for an employer versus employee restraining order in Norwalk. The judge denied the petition.

During his exit interview, he made comments to his employer that his employer allegedly thought were threats. The client also alluded to being under a lot of stress due to the hostile work environment.
Counsel for the company saw the potential for a wrongful termination case and so the family, following the adage that the best defense is a good offense, filed a request for an employer v. employee restraining order against their former employee, our client.
About two weeks later, our client was served with a petition to stop harassment (restraining order) against him. The two-week delay certainly showed how little urgency the company attached to the supposedly volatile, dangerous ex-employee.
Moreover, the petition also failed to allege that there was a threat of future harassment. The petition otherwise also failed to meet the pleading requirements of California Code of Civil Procedure § 527.8(f) for a judge to grant a hostile work environment restraining order.
The client received the petition and looked on the Internet to educate himself about what he needed to do, but realized he needed help from an experienced attorney. He then called Greg Hill & Associates and spoke with Greg Hill. He described the facts and how he was worried that if such a restraining order were entered, it might prevent him from going to trade shows or other industry events where his old employer would be present. He was also extremely concerned about what such an order, if granted, would mean for his record on CLETS that a future employer might see.
The client then e-mailed Greg the petition to review. The hearing date was only three days away in the Norwalk Courthouse.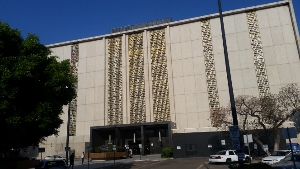 Norwalk Superior Courthouse
The client then retained Greg Hill and he quickly prepared a lengthy Memorandum in Opposition to the Request for a Restraining Order, complete with declarations from our client and two co-employees setting the record straight. The declarations described the hostile work environment that the Bangladeshi family fostered and maintained, suggesting their credibility in the petition needed to be regarded with skepticism. Greg then addressed the pleading inadequacies of the petition. This further showed Petitioner's request should be denied based on the pleading standards required under § 527.8.
At the hearing, the petitioner's attorney read our brief and agreed to take his client's petition off calendar. He realized the judge had no choice but to deny the petition, which would be a major defeat for his client and a significant victory for our client.
Petitioner also agreed to pay our client's attorney fees demand ($2,500) if our client would not file his brief with the court. Our client accepted the offer and received the payment in about two weeks. The client was extremely happy he had hired Greg Hill & Associates to help him.
For more information about protective order issues, please click on the following articles:
I Face a Civil Restraining Order for Domestic Violence and a Criminal Charge of Domestic Violence – What Should I Do?
Contact us.