North Kern State Prison (NKSP)
2737 West Cecil Avenue, Delano, CA 93215, (661) 721-2345.
This male-only, medium security state prison is located approximately 180 miles north of Los Angeles. It is also about four miles north of the Kern Valley State Prison. The prison opened in April of 1993. It has about 4,890 inmates, which is well above its design capacity of 2,800. The facility is an exact replica of the Wasco State Prison.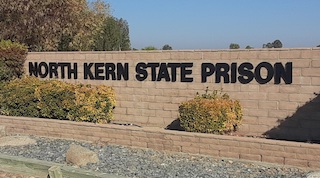 North Kern State Prison
Most inmates, approximately 3,500, are there for only two or three months in prison's inmate reception area where they are evaluated for their physiological and social needs before being transferred to other prisons as their final destination. For another 1,400 inmates, North Kern is the final destination. The reception area inmates are housed behind an electrical fence and are considered more dangerous than those housed permanently at North Kern. The inmates staying there for only a few months are double-bunked in each cell.
Due to the overcrowding, there is frequent fighting between inmates. While some of the fighting is racially oriented, there is also a continuing source of explosion between the Sureños and Paisas (Mexican nationals).