Nine Criminal Laws Changed, Effective January 1, 2019
There are several significant changes in criminal law that will either decrease or increase the consequences of committing a crime, or even being accused of a crime in 2019. The following list is some of those new laws that will reach the most people or have the largest effects:
1.
Senate Bill 1437
, amending Penal Code section 188 and 189, as well as section 1170.95, relating to murder. SB 1437 limits criminal liability for individuals based on a theory of first or second-degree felony murder. It allows individuals previously sentenced on a theory of felony murder to petition for resentencing if they were an aider or abettor or an accessory after the fact. This bill is meant to decrease the sentences for, i.e., the girlfriend who is the get-away driver for her boyfriend, but the boyfriend never told her beforehand that she'd be driving him away from a liquor store robbery in which the store owner is shot.
2. Senate Bill 1232
concerning victim compensation claims. This bill increases the time to file an application for compensation with the California Victims Compensation Board to within three years of when the victim turns 21, rather than 18. This amends Government Code § 13953 relating to victims of crime and making an application thereto.
3. Senate Bill 1187 regarding restoration of a person's competency. This bill reduces the maximum term of commitment to a mental health treatment facility to restore a person's competency from three years to two years and allows a person committed to the facility pending the return of mental competency to earn custody credits while at the hospital. This bill amends Penal Code §§ 1369, 1370, 1370.1, 1373.5 and 4019.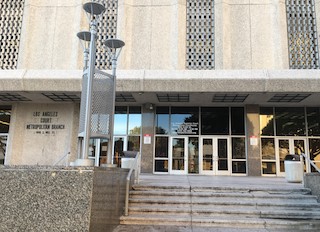 Metro Courthouse
4. Senate Bill 1054
, concerning arrestees for sex offenses if Senate Bill 10 is approved in November 2020. The bill amends Senate Bill 10 concerning elimination of cash bail. While Senate Bill 10 is not going into effect unless California voters approve of it in a referendum vote in November, 2020, this bill amends SB 10 to provide that no person arrested for a sex offense could be released pre-arraignment and that in the City of and County of San Francisco, the existing non-profit agency performing pretrial services may provide the pretrial services in Senate Bill 10.
5. Senate Bill 215
, to amend Mental Health Diversion under Penal Code § 1001.36. This bill changes 1001.36 in three ways. First, it eliminates certain crimes from consideration for mental health diversion, including murder, manslaughter, rape and other sex offenses. Second, it requires courts, upon request, to conduct a hearing to determine whether restitution is owed to any victim as a result of the diverted offense. Third, it authorizes a judge to conduct a prima facie hearing where a defendant must show they are potentially eligible for diversion.
6. AB 1948
, adding fentanyl to the list of substances for which wiretaps are authorized. This bill amends Penal Code § 629.52 to add fentanyl to the list of substances for which interception of wire or electronic communications may be ordered.
7. AB 1793
, expanding notification of those with marijuana-related convictions eligible for reduction or dismissal under Prop 64. This bill increases and expedites the identification, review and notification of individuals who may be eligible for recall or dismissal, dismissal and sealing (juveniles), or re-designation of specified cannabis-related convictions or adjudications.
8. Assembly Bill 1735
, increased offenses eligible for protective orders. Assembly Bill 1735 requires the judge to consider issuing a protective order in all cases in which a defendant has been convicted of human trafficking, pimping or pandering. This act amends Penal Code § 136.2 relating to protective orders.
9. AB 1065, creating the crime of organized retail theft. This bill expands prosecutorial jurisdiction to prosecute cases of theft or receipt of stolen merchandise. It also requires the California Highway Patrol to convene a regional property task force. This bill has a sunset date of January 1, 2021.
For more information about other significant new changes in the law, please click on the following articles:
Contact us.