Metropolitan Court, 0.26% BAC, Second Time DUI, Car Crash
Our client was a graduate student at UCLA. He had a prior DUI from five years prior and another misdemeanor for selling alcohol to a minor, but he was not a U.S. Citizen. While going through the process to become a citizen, he picked up a second DUI.
Summary: Second time DUI, BAC 0.26% two hours after three-car accident on 110 freeway, immigration consequences, case resolved for 30 days city jail, Metropolitan Courthouse.
The case facts were not good. He had been up all night, studying. While studying, he drank a few large Coors Light over the course of the all-nighter. He then left for work, which was as a chef at a large church. He had to be at work by noon.
He was running behind schedule, but not by much. He was going northbound on the 110 Freeway, in the lane alongside the carpool lane. He was near Adams Boulevard. Suddenly, a car to his left made an illegal lane change from the carpool lane into the regular traffic and slowed suddenly in front of the car in front of our client.

The car in front of our client slammed on its brakes, causing our client to also slam on his brakes. Unfortunately, our client's reactions were not fast enough and he ran into the rear of the car in front of him, sending it into the rear of the car that made the illegal lane change.
Our client rear-ended and injured the wife of a well-known local policeman who our office was quite familiar with, especially because he calls himself "Mr. DUI." This ironic coincidence led the City Attorney at the Metropolitan Courthouse to consider our client's case quite serious.
The interesting fact about the case was that our client had not drank alcohol for several hours before the crash and then was not tested until two hours after the collision. Yet his blood alcohol content measured 0.26%, which is more than three times the legal limit. Yet the Datamaster DM machine was calibrated properly and inspected regularly. The officer who administered the test was properly qualified and our client did not suffer from GERD or have any other type of health issue that might have skewed the BAC as high as it was measured.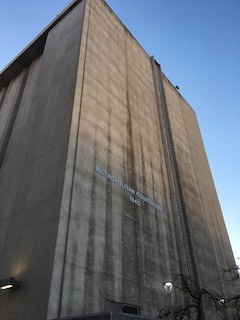 Metro Courthouse
The initial offer in the case involved 120 days of county jail, five years of summary probation, a $500 fine, plus penalties and assessments, the eighteen month alcohol awareness program (SB38), the hospital and morgue (HAM) program and attending the Mothers Against Drunk Driving (MADD) Victim Impact Panel (VIP). The client was also required to attend two AA's per week while his case was pending.
The client knew that going into custody would probably result in an Immigration and Customs Enforcement (ICE) hold on him for possible deportation, as this was his third misdemeanor in about five years.
He then hired Greg Hill & Associates to help him. Greg had to negotiate quite actively, but in the end, after seven court appearances over five months, was able to reduce the jail time to 30 days and with an agreement that our client attend jail in City Jail, which avoided the ICE hold because it was City Jail. For this alone, our client was very happy.
The deal also required our client to attend 100 AA meetings, which after credit for 57 meetings he already did while the case was pending, meant 43 more remained. The fine was also reduced to $450, plus penalties and assessments, and the MADD VIP was eliminated, as was the HAM program.
The client was very pleased with this, as hiring Greg Hill & Associates avoided certain deportation and saved him hundreds of dollars, as well as his job because City Jail can be served on weekends.
For more information about the issues in this case summary, click on the following articles:
Watch our video about DUI by clicking here.
Contact us.