Los Angeles, Child Molestation, Plea to False Imprisonment
Our client, age 27, was the boyfriend to a single mom with a thirteen year old daughter. The single mom would invite our client over for the weekend and he would stay with her and her daughter, becoming over time a trusted person, almost a father-figure to the daughter.
This relationship lasted for over two years. The three would go to church together, on short vacations and out to dinner together. Our client would spend quite a bit of money on the mom and her daughter, even helping them pay their rent and utilities. However, the mother would date other guys during the week when our client was not there.
Synopsis: Client charged in downtown Los Angeles with three counts of felony "lewd acts with a child," Penal Code § 288(c)(1), involving the daughter of his ex-girlfriend. Case resolved for misdemeanor false imprisonment and no sex offender registration requirement.

Sometimes, such guys would call or stop by on weekends and this would lead to awkward situations where the mom would have to explain herself.
Finally, our client had enough of this relationship and decided to end it. The mom was obviously upset at this because our client paid her rent and utilities and even for food at times. She did not have any other boyfriends who could financially support her and her daughter.
She sensed our client was about to break up with her, so she asked to borrow his laptop for the week while he was away at work. She then went to the police, reported that our client had molested her daughter and kept his laptop, eventually selling it when she needed the money.
The police investigated the charges, which the young daughter corroborated. The mom reported that our client had, at one time, touched her daughter's upper leg (over her clothes) while the two were sitting on the living room couch watching television. Another time, our client gave his girlfriend's daughter a back massage with the daughter lying down on her bed and he undid her bra-strap. The massage ended when her mom called the two from the kitchen to come in for dinner.
Lastly, the mom told the police that our client once offered to take "fashion photos" of her daughter in a closed closet "for the lighting there." While taking the photographs, he asked the daughter if she had ever fantasized about kissing "a Black man," as he was African American, and she was not.
The mom further said our client was once overheard telling her daughter that she was "very sexual" and that he would describe sexual acts to her "just to educate her." He also allegedly allowed his hands to "brush" her daughter's breasts as he would reach for items near her.
Our client was then contacted by the police and, when confronted about the allegations, tried to explain the context of each event to mitigate the allegations. After speaking with the police, however, he became concerned that he had failed to convince the police that nothing serious had happened. He then called Greg Hill & Associates.
It was a Saturday afternoon when the client first called and he spoke to Greg for over an hour. The client then did not call for another month, but when he next called, he reported that he had received a letter advising him that a criminal complaint had been filed against him and that he was to report to the Central Criminal Building (CCB), also known as the Clara Shortridge Foltz Criminal Justice Center, on a specific date. There was a case number identified on the letter and it was for a felony.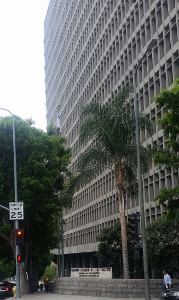 Clara Shortridge Foltz Criminal Justice Center (CCB)

Greg Hill & Associates was retained and then did appear with the client on the specified date. Greg directed the client to a bail bondsman to have the paperwork ready, as it was expected that the judge would set bail and our client did not want to spend any time in custody and miss work.
On the date of the arraignment, the judge did indeed impose bail and our client was able to post the bail amount. Our client was charged with three counts of violating Penal Code § 288(c)(1), "Lewd Acts Upon a Child." One of the counts involved conduct upon a child under 14. The case was assigned to a special prosecutor for sex crimes.
Over many months, Greg and the prosecution negotiated a plea bargain, ultimately agreeing upon dismissal of the three felony 288(c)(1) charges and amendment of the complaint to allege misdemeanor false imprisonment, Penal Code § 236. The client would avoid the lifetime requirement to register as a sex offender under Penal Code § 290 and the maximum of three years imprisonment that each 288 count carried.
Instead, the client entered into a plea bargain wherein he received no jail time, but was obligated to perform 20 days of community labor, undergo a 52 session sexual compulsiveness class, pay a $300 sexual offender restitution fee and serve three years of informal probation. The client was very happy to avoid a felony record and the 290 registration requirement.
For more information about child molestation, please click on the following articles:
Contact us.