Long Beach, Reduction of Felony 12021(c)(1) to Misdemeanor
In the middle of the summer in 2007, our client, then 27 years old, was arrested by the Long Beach Police Department for a suspected violation of Penal Code § 12021(c)(1), illegal possession of a firearm by a felon. The firearm was in a locked safe in his car, which our client believed was the legal way to transport a weapon. The arrest was about midnight along Pine Avenue by Third Street, right in the heart of downtown Long Beach.
Approximately four months later, using the services of a public defender, our client pled no contest to a violation of Penal Code § 12021(c)(1).

The terms of the plea bargain were that our client was sentenced to sixteen months in state prison, which was imposed. It was not a joint suspended. The client then served approximately seven months in state prison (AB 109, which was not passed until 2011, would have made this a state prison sentence served in county jail).
Since his arrest in this case, and after being discharged from parole, our client moved to North Carolina. He turned his life around and was living in a positive, stable and productive life. He had a steady job with Honda, but he was worried about his prior felony holding him back from future promotions.

He called Greg Hill & Associates to discuss what he could do about his criminal history. He explained that if his employer found out he was a convicted felon, he may never be promoted again and he would be stuck in a low-paying job forever. He explained that he lived with his girlfriend and was currently in the process of purchasing a home. Although the couple has no children of their own, our client had two daughters from a previous relationship. He had been able to financially support himself with his income. However, he would like to earn a higher income with the cost of living increasing. He realizes that with this felony conviction stigmatizing him, he would not be able to reach his goals and increase his income.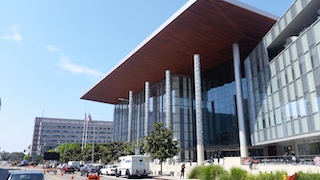 Long Beach Courthouse
Reducing his felony conviction to a misdemeanor would allow him to obtain a higher position and, consequently, earn a higher income. Our client also wanted to enjoy hunting in North Carolina, as many people at the car dealership where he worked raved about the duck hunting and our client could not own, purchase or possess a firearm with a felony record.
Greg then explained how Penal Code § 12021(c)(1) was now a misdemeanor and he could file a motion for reclassification of the felony to a misdemeanor. Greg warned that because the client actually served time in state prison, some judges would not reduce the felony to a misdemeanor, so success on the motion was not a "slam dunk."

The client then agreed to have Greg filed the motion for reclassification under Penal Code § 17(b)(3) in the Long Beach Superior Court. The motion explained how the client's prior conviction arose, i.e., the circumstances of the traffic stop, the discovery of the gun in the car, our client's plea and his serving time in state prison.

The motion included a declaration from our client explaining how he had matured and progressed in life since 2007. He was now 40 years old and buying his first house, for example, and trying to develop a career with Honda. Being a convicted felon would definitely impose limits on how much trust his employer would extend to him in terms of higher positions with a higher salary. Our client's declaration included photographs of him and his girlfriend in North Carolina.
Greg then filed the motion for reclassification of the felony as a misdemeanor under Penal Code § 17(b)(3) in the Long Beach Superior Court. He also served the District Attorney's office.
A hearing was set on the motion about five weeks later and the judge granted the motion. Our client was happy, almost in disbelief with excitement that his future had one less barrier blocking him.