Long Beach, Grand Theft Auto, Prior Strike, Probation
Our client was clearly framed for a crime and the District Attorney knew it, yet would not admit this to our office. After all, the evidence seemed too strong against our client, but it also had the fingerprints of someone else our client knew all over it and there was a strong motive for that other person to plant the evidence.
Summary: Long Beach, client with prior "strike" and facing a felony charge of Penal Code § 496(b) with seven years in prison, probation granted with Cal-Trans after Greg files a sentencing memorandum and the judge undercuts the DA's offer.

Our client was charged with a single count of receiving stolen property (Penal Code § 496(b)), a felony, in the Long Beach Superior Court. The complaint also alleged our client had suffered four prior convictions for commercial burglary (Penal Code § 459), a prison prior and a prior strike conviction. He faced seven years in prison due to the sentencing enhancements.
Our client worked as a repo man for a company operating out of Long Beach and San Pedro. He was not receiving as many assignments as another repo man for the company because he did not bribe the operations manager. Eventually, our client gave up and quit.
In disgust with the company, he reported the company to the State of California Bureau of Security and Investigative Services because the company manager was operating without a state license.
The company manager was upset about this and decided to retaliate. He and his preferred repo man towed a repossessed car to the curb in front of our client's house and then called the cops, claiming it was stolen. The company manager described the car with great detail and where they thought it might be.
Within an hour, police coincidentally were at our client's house, seeking to arrest him as he was the most likely suspect. Given our client's prior criminal record, he was presumed guilty.
Our client came to us, exasperated because he faced seven years in prison for a crime he did not commit. In fact, his prior counsel had failed to tell the District Attorney any of the key facts that pointed to our client's innocence.
The meat of the prosecution case was a supposed computer entry that our client made attempting to change the VIN number on the car. Supposedly, the IP address from which this was made was our client's IP address. Indeed, the evidence was a bit technical.
Greg Hill then sat down with the client, who had himself figured out that the evidence was misleading. Greg prepared a Defense Position Letter explaining to the District Attorney how the IP address was actually traceable to an address in Orange County, even though our client lived in Long Beach.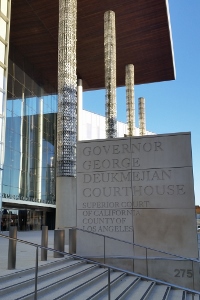 Long Beach Superior Courthouse
He explained how the "stolen" car was a stick shift and our client could not even drive a stick.
Most importantly, Greg explained how we had a witness, the client's neighbor, who saw the preferred repo man tow the car to our client's curb and leave it there late at night. This neighbor was never interviewed by the police and even after he came forward, the police were reluctant to consider his story because it would make the crime more complicated. Besides, our client was already arrested and charged, so police would have to admit they made a mistake.
The District Attorney was not persuaded either and offered the client four years in state prison. This was the mid-term sentence of two years, doubled because our client had a prior strike.
Greg Hill then pled in the open to the judge in Long Beach. Greg prepared a twelve-page sentencing memorandum for the client with many exhibits not only contesting the police conclusion, but also asking the Court to strike the strike for purposes of sentencing.
The judge read the client's brief, commenting that the brief was "very good" and sentenced our client to thirty-six months of formal probation, conditioned upon our client completing sixty days of Cal-Trans. Our client was extremely happy at avoiding any prison time.
For more information about the issues in this theft offense case summary, click on the following articles:
For more information about theft and robbery crimes, please click
here
to watch our theft offenses video.
Contact us.