Long Beach, Felony, Client Cuts Boyfriend Near Jugular Vein
Our client, age 50, and her boyfriend, age 52, shared an apartment in Long Beach. The boyfriend did not have a job and never had worked in his life. He was a raging alcoholic with a chronic liver condition that often led to emergency hospital visits. Our client was a recovering alcoholic herself, having lived in a residential treatment facility for several years before returning to regular life. She had sadly, however, recently resumed drinking heavily.
The couple argued constantly. Our client was attending college at Cal State Long Beach and hoping to again be employed. She had two sons and a mom in the local area who she kept in regular contact with.
One day, the two were arguing again and our client's boyfriend was in the kitchen, playing with a ten-inch long knife and drinking heavily. His father had recently passed away and he was bragging to our client about how much money he would inherit. Our client told him that she thought an inheritance should be one of the last things he thought about at this time. Instead, he should be thinking of what a great father he had been to his family.
The argument progressed into loud yelling and then hitting and pushing. Eventually, the boyfriend strangled our client and our client kicked her boyfriend a few times.

The boyfriend had a history of cutting himself when depressed and, in his prior marriage, he also would burn himself with cigarettes for attention.
As our client and her boyfriend were arguing, the boyfriend returned to the kitchen, only to calmly walked out the front door of the apartment and then staggering, starting yelling, "She cut me in the neck, almost got me in the jugular!"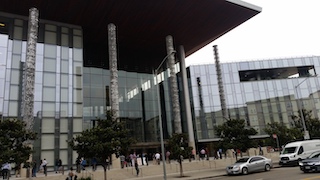 Long Beach Courthouse
A neighbor was on the walkway of the second floor of the apartment complex as well and used her cell phone to videotape the boyfriend's tirade. Someone then called 911 and our client's boyfriend went outside the front gate of the apartment complex, where the fire department arrived and treated his neck.

The boyfriend had clearly cut himself, but he blamed our client. Since he had several prior experiences with domestic violence, he knew the charges would "stick" if he immediately told police that "I don't want to press charges" and "I don't want her to get in trouble."

Police then tried to interview our client, but she refused to speak to the police. She was then arrested.

The boyfriend was then taken to the hospital by an ambulance for the one-inch cut. Once at the emergency room, his blood alcohol content was measured. It was 0.24%. The boyfriend then walked out of the emergency room without receiving any medical attention and went straight to a liquor store to buy more alcohol and walked home.
From the jail, our client and her boyfriend had many phone calls, all of which were recorded. Our client was also quite drunk. The boyfriend lectured our client on "keeping her mouth shut" so he would not be committed to a mental health hold under Welfare & Institutions Code § 5150 because then he would be appointed a conservator and lose access to his inheritance in full. He was quite emphatic about our client protecting him.
Our client also spoke with the police while she was in custody and stated that she would defend herself if attacked by her boyfriend, which police interpreted as a confession to the crime.
Our client eventually was released and retained Greg Hill & Associates after speaking with about a half-dozen other attorneys.

Greg then appeared with the client in the Long Beach Superior Court for the client's arraignment. The initial offer was low-term two years in state prison on a plea to assault with a deadly weapon (Penal Code § 245(a)(4), a non-strike), which was considerably less than the ten years our client faced due to a second count of domestic violence, a great bodily injury sentencing enhancement (Penal Code § 12022.7(e), which is three, four of five years) and use of a weapon enhancement (Penal Code § 12022(b)(1), which is one year).

Our client had fourteen prior misdemeanor convictions, as well as 26 prior bookings for misdemeanor offenses and two prior bookings for felonies, so the District Attorney's office was certainly not regarding this as a first-time offense by our client. She did have one prior conviction for battery and two prior convictions for theft-related offenses as well, so her credibility was not considered strong.
Over many appearances, Greg negotiated the plea bargain down to just probation, but with five years of prison suspended ("joint suspended"), with no jail at all. However, our client had to perform 200 hours of community service, attend 52 domestic violence batterers classes and stay away from her now-ex boyfriend. The key toward reducing the offer was most likely Greg's defense position letter with a mitigation packet of "Good Gal" materials that Greg prepared and submitted to the District Attorney's Office for consideration in resolving the case.
This was a tough case to resolve, but we were happy to do so. Our client was pleased as well, but was perturbed that she had to perform 200 hours of community service.

For more information about felony domestic violence and great bodily injury, please click on the following articles: