Long Beach, Bar Patron's Order Versus Our Client Denied
Out of the blue, one day, our client received an application for a restraining order against him. He looked at the petitioner's name and did not recognize it. Not being able to read English, he had our office translate the request (written in English) and he realized what was going on.
The Main Point: Our client defeats request for a restraining order filed in the Long Beach Superior Court by an older woman, ridiculed for her weight in a bar, which was filed with the obvious goal of humiliating our client and trying to get even for her embarrassment.

An older lady, in fact a mother of four, had been ridiculed by several men in a local Wilmington bar. They had laughed at her and told her she was fat and too old to be in a bar. Humiliated, she called the police that evening and claimed our client had touched her inappropriately. Our client was arrested and held overnight in jail. No charges were filed.
This frustrated the older lady, so she decided to "try again" by seeking a restraining order against our client.
In her request for a restraining order, she claimed that our client had raped her 18 months earlier. In fact, our client was arrested for this, the allegations were investigated and the Los Angeles Police Department dropped the case, giving our client a "No File" release in writing. She then claimed that he had followed her into a bar seven months later and stared at her. She then claimed that eleven more months later, he had touched her inappropriately at the local Wilmington bar described above. The long-winded description of "harassment" was filled with inconsistencies.
Our office looked at the allegations and advised our client that it was highly likely that the court would deny her request for a restraining order. We then prepared a twelve page brief, attaching the Los Angeles Police Department's "No File" decision paper from our client's arrest for alleged rape, as well as the one for inappropriately touching her more recently. We argued that because the Los Angeles Police Department takes such allegations seriously, it would be unfair to have a court overturn the LAPD's investigation, which took place at the time of the alleged incident.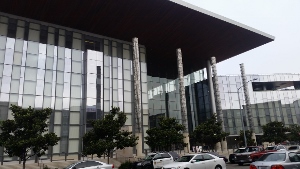 Governor George Deukmejian Courthouse
We also argued that due to the internal inconsistencies in the rambling description of events, the old lady's credibility was certainly an issue and therefore the truth of the allegations had to be viewed with suspicion.
Lastly, and most crucially, we pointed out that petitioner (the old lady) failed to allege that our client represented any threat of future harm to petitioner. We reminded the court that a restraining order may not be awarded based on past events; only upon a credible showing of the likelihood of future harassment or harm.
At the hearing on the restraining order, petitioner was allowed to offer a twenty minute monologue describing why she wanted a restraining order. The lengthy speech by her was incoherent and, by its length, disrespectful to the court's time. The judge patiently listened to every word, even asking her to clarify certain particularly incomprehensible parts, before thanking her for her time.
He then promptly denied her request, explaining his reasoning which almost verbatim was a reading from our brief. Our client was happy.
For more information about the issues in this case summary, click on the following articles:
Watch our video about restraining orders by clicking
here
.
Contact us.