Kern Valley State Prison (KVSP)
3000 West Cecil Avenue, Delano, CA 93216-6000, (661) 721-6300
Kern Valley State Prison is a male-only, maximum level (Level IV) security prison. It is overcrowded and dangerous. In March of 2013, ten inmates there were stabbed in a mass riot there. There are roughly 4,200 inmates there, but the design capacity is just over 2,400 inmates. Delano is a small town, made famous during the days of Cesar Chavez as the location of his farm-worker strikes. It is about two hours north of Los Angeles, just off the I-5 on the way to Fresno.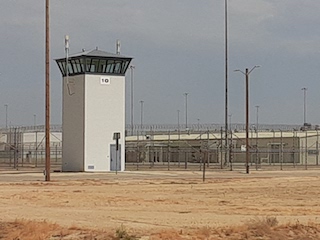 CA Kern Valley State Prison
The prison is very new, having just opened in June of 2005. KVSP is adjacent to the North Kern State Prison, so if one intends to visit an inmate at KVSP, it is important to be careful not to go to the North Kern State Prison instead.