Ironwood State Prison (ISP)
19005 Wiley's Well Road, Blythe, CA 92225, (760) 921-3000
Ironwood State Prison is located outside Blythe, south of the I-10 freeway, in an unincorporated area of Blythe. The city of Blythe is a small desert town, located about 200 miles from Los Angeles. It is past Palm Springs, past Indio, past Joshua Tree. The prison is adjacent to Chuckawalla State Prison.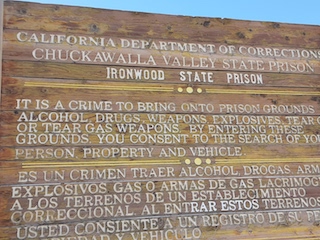 Ironwood State Prison
As of 31 December, 2012, it had an inmate population of 3,451, which is above its design capacity of 2,200. It is designed for minimum security and medium security inmates. The prison is fairly new, having been built in 1994. It lists its demographics of its population as 34% Hispanic, 22% Mexican, 20% Black, 14% White and 10% other.