If You Had to Hire an Attorney, What Would You Want Done?
The answer to the above question most likely is best started by, "it depends upon the type of charges I'm facing." Indeed, it does, but there are certain due diligence activities that must be performed no matter what type of case is at issue.
Why This Article Was Written: Hiring a criminal defense attorney can be an embarrassing and yet very important task. Knowing what to ask and what to expect in a very general sense can help one proceed with more confidence and clarity. This short article is intended to help one know what to expect so one can make a meaningful decision on who to retain.

First and foremost, we think the most important thing is to listen thoroughly and patiently to the client's story of what happened. We find that the more we simply listen to the client, the better we understand the defenses, the elements of the crime that the prosecutor will have trouble proving and what we must do or, most importantly sometimes, not do. We find that, over the years, while we have increasingly come to use private investigators, expert witnesses and independent testing, we have purposefully abstained from doing other things that clients want done, maybe because they saw it done in a movie or on television.
Due diligence dictates that one should always request the full police report, including all supplemental reports, dispatch logs, photographs, 911 calls, audio recordings, recorded statements, videos (including body-cam videos, MVARS (dash-cams), store security videos and booking videos), text messages between officers related to the crime, officer notes and criminal histories of victims and witnesses.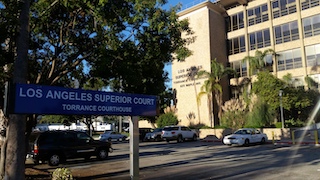 Torrance Courthouse
In specific types of crimes, such as in sex offenses, arson investigations, DUI and drug cases, and crimes involving wiretaps and/or warrants, there are a host of other items that ought to be demanded under Penal Code § 1054 and
Brady v. Maryland
from the outset.
In many cases, we find going to the scene of the arrest does not seem necessary, but we will do so with the client and we are often pleasantly surprised how much it helps us understand what took place from law enforcement's point of view, a witness' point of view and our client's point of view.
Hiring a private investigator is often shunned as an expense and is not given a second thought, but we find a good private investigator can not only investigate a witness or a victim, but the private investigator often makes helpful suggestions toward the defense of the case because the private investigator commonly is a retired police officer with decades of experience.
When hiring an attorney, we think it is also very important to know if the attorney is comfortable and even aggressive in filing motions such as, as appropriate, a motion to suppress evidence, a motion for reclassification of the charges as misdemeanor (a Penal Code § 17(b)) motion), a motion for civil compromise, a
Serna
motion, a motion for a blood split, a motion for appointment of an expert, a
Pitchess
motion, a motion for discovery (and dismissal if such discovery is withheld), a 995 motion to dismiss or one of many other lesser-known motions. It is equally important, we think, that the attorney be well-versed in writing sentencing briefs and other memorandum for the judge to consider.
In our experience, if one can write well and show a good faith effort on behalf of the client, there is almost always a benefit, even if the motion is denied. Filing motions that are carefully written, are persuasive, and exemplify zealous advocacy can elicit judicial assistance in narrowing the issues and resolving the case.
The client who reads such motions also often feels more comfortable with the attorney's overall strategy.
The attorney who sets forth such tasks as part of a comprehensive game-plan in the retainer is an attorney who shows the client he or she is aware of what can be done.
Naturally, the attorney and the client should work together although many decisions are exclusively made by the attorney. But if the client has confidence and trust in the attorney, often built upon open communication, the case resolves better and with far less anxiety or confusion.
For more information about hiring an attorney, please click on the following articles:
Contact us.