How to Seek Case Settlement on Extradition Request?
When one is facing extradition to a demanding state, what can be discussed to resolve the case with the demanding state and thereby possibly prevent extradition?
While each case is different, we recommend that defense counsel appreciate how a prosecutor in the demanding state may view the case. He or she may think, "Great. We finally caught up to him. It has been a long time to wait for justice. We can't wait to get him back here." In other words, the client is in custody and the last thing the prosecutor wants to do is allow the person to be free again, especially if ten or twenty years has passed and it is a serious or violent crime.
The Gist of This Article: If someone is going to be brought from California to another county or state only to enter into a plea bargain once there, or the DA there plans on dismissing the case upon the fugitive's arrival, why can't this happen telephonically or via video appearance from California without extradition? This article covers how this tactic can be approached.

Nonetheless, we recommend starting the conversation with the one commonality to every case. This is the expense to the demanding state of having to transport defendant back to the demanding state. Some prosecutors, especially younger prosecutors, are not easily persuaded that the expense should be considered, but older prosecutors may be more sensitive to this issue.
If the prosecutor agrees that he or she would like to avoid this expense, we then like to discuss any procedural issues that might persuade the asylum judge (here in California) to refuse extradition. This may be an identity issue, a dispute as to whether there really was ever a conviction or a charge properly filed, insufficiency issues with the demanding state's paperwork or whether the client is actually a fugitive from the demanding state. These may not be viable issues to discuss, but they ought to be considered and discussed if reasonable.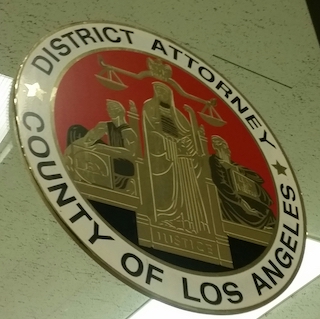 DA's Office Emblem
If the offense charged against defendant is no longer a crime, i.e. in some drug cases this may be an issue, then that is a valid ground for asking the demanding state's prosecutor to drop the extradition request (called a requisition).
Getting to the merits of the case, if the defendant is innocent or has a valid defense of some sort (i.e. alibi, self-defense, necessity), then this should be discussed with the demanding state's prosecutor to request dismissal or a plea bargain to a lesser charge or with probation on lenient terms.
If the crime is non-substantial, i.e. non-violent or the victim was damaged to a low monetary amount, it is good to find out if the demanding state's prosecutor will allow a plea bargain through local counsel in the demanding state (i.e. through a notarized written plea as is allowed in California in misdemeanor matters and, with court approval, on certain felony pleas).
Two final grounds should be brought up, but with care. First, it is not uncommon for many years to have passed and the defendant to believe he or she is rehabilitated. It may because the person voluntarily attended many Alcoholics Anonymous or Narcotics Anonymous classes, batterer's classes, anger management classes, etc. It also may be that the person has graduated from college, become employed, married, had kids, volunteered in the community and has gained a strong positive reputation.
Lastly, it is not uncommon for the defendant to be in a period of extreme hardship, such as poor health of himself or herself, or someone in his / her immediate family. The person may also be quite elderly or in a position of high responsibility for others. The extreme hardship argument should be used only as a last resort, not a first argument.
For more information about extradition issues, please click on the following articles:
Contact us.