Hermosa Beach, Public Urination & Public Intoxication
It was a warm early June Saturday evening. The NBA finals were on TV and most of the bars in Hermosa Beach were playing the game for everyone in the bar to watch, presumably with a beer or other drink in their hand.
Our client, age 37, was in town from Las Vegas for business. He had met with old friends for an early dinner, but once dinner finished, the friends needed to go home early and, with apologies, did so. Our client was thus left alone and the night was still quite early.
Summary in 50 Words or Less: Client arrested in Hermosa Beach after getting very drunk in Baja Sharkeez on Pier Plaza while watching NBA playoffs. Client spends nigh in Hermosa Beach jail. Case resolved with two years of informal probation, 30 Alcoholics Anonymous(AA) meetings and payment of booking fees.

He went into Baja Sharkeez and sat at the bar, watching the NBA game. One beer became two and so on until the game ended about eleven p.m. Our client did not have to work until Monday morning, so knowing he all day Sunday to sleep and recover, he decided to enjoy a beer or two more.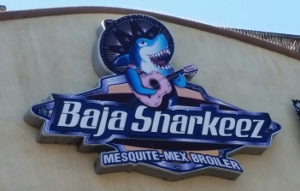 Finally, at about midnight, he decided he would catch a cab and return to his hotel room. He asked where to hail a cab and the bartender explained the general area just south of the Pier Plaza on Hermosa Avenue.
For whatever reason, our client walked past the taxi pick up area and kept walking south (towards Redondo Beach) until he reached Barnacles Bar near Eighth Street. He was confused about where to catch a taxi, so he stepped inside the bar to ask for help. Someone in the bar explained that he needed to turn around and go back north towards town, so he did.
However, he realized he need to pee, so he stopped near Eighth Street about 20 yards east of Hermosa Avenue to urinate. As luck would have it, a police car was driving by at that same time and the car stopped. An officer exited the car and approached our client.
Our client allegedly was asked what day of the week it was and he could not answer. Allegedly, our client also could not explain where his hotel was either. The officer further claimed that our client was incoherent and arrested him for public intoxication (Penal Code § 647(f)) and public urination (Penal Code § 372). Our client then spent the next eight hours in the Hermosa Beach jail and was released with an arraignment date two months later in the Torrance Superior Court.
The client was quite nervous about the charges, as he has just completed probation on a DUI from outside Los Angeles County. He called Greg Hill & Associates and spoke with Greg Hill, who explained how such cases are generally handled by the Redondo Beach City Prosecutor's Office in the Torrance Superior Court.
He further explained how the out-of-county records often do not appear in the client's criminal history and, if this were the case, Greg could request judicial diversion. Greg then explained how judicial diversion worked and how the client would be able to "earn" a dismissal.
However, if the record of the DUI conviction was visible to the prosecutor, Greg explained how he expected the case to be plea bargained.
Greg later appeared at the arraignment and saw that the DUI conviction was revealed in the client's criminal history. The initial plea bargain offered from the Redondo Beach City Prosecutor was for the client to enter a "no contest" plea to the public intoxication charge and be placed on three years of summary probation, contingent upon paying a court fee of $300, plus penalties and assessments (about $1400 total) and the Hermosa Beach booking fee of $353.
Greg was a bit taken aback by the severity of the offer and explained to the prosecutor that the reason why our client had confusion about his hotel location was because he was not familiar with the local area. In addition, his confusion about the day of the week was because the time of the incident was about midnight and he was not sure if it was Saturday or Sunday.
Greg then counter offered a plea of two years of summary probation, 30 Alcoholics Anonymous (AA) meetings and 40 hours of community service, plus payment of the booking fee, but that client would plea to disturbing the peace (Penal Code § 415(2)) instead.
The Redondo Beach City Prosecutor then agreed to resolve the case for plea to public intoxication with two years of summary probation, 30 AA meetings and payment of the booking fee.
The client was happy with this offer, and accepted it, as Greg had saved the client approximately $1,400 in court fees and one year in probation.
For more information about public intoxication and public urination, please click on the following articles:
Contact us.