Hermosa Beach, Public Urination, Diversion AB2124, Dismissal
Our client had no prior criminal history. He was a successful executive with a large auto parts company and traveled the world as part of his job. He was 32 and making good money.
Synopsis: Client ticketed for urinating in public (Penal Code § 372) in Hermosa Beach parking structure north of Pier Plaza, motion for judicial diversion under AB 2124 granted, case dismissed after one year.

He had spent an evening with old friends from college at one of the downtown restaurants and then had progressed over to one of the many downtown bars.
Before he realized what time it was, it was 2:00 a.m. and he was being asked to leave the bar. He ventured back toward his car in the parking structure north of the Pier Plaza and realized he needed to find a restroom before driving home.
He looked around to find a bar that would allow him back in. He tried several, but each would not let him in.
There are several public restrooms in the Pier Plaza area, but they are at the foot of the Hermosa Pier and far from the parking structure. They had a reputation for being a hangout for homosexuals looking for another homosexual. A guy like our client would not want to be seen looking to use the restroom there if police were to arrest the homosexuals for indecent exposure. Our client would be devastated to be arrested for that by mistake.
In other words, he did not want to walk that far and he did not want to risk being seen near those restrooms. Not being able to use any bar's restaurant, he felt he had no choice but to urinate near his car in the parking structure.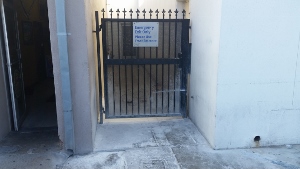 Hermosa Beach Area Parking Structure

No sooner had he finished than a Hermosa Beach Police Officer walked up to him and told him he had seen him urinating in public. The officer quickly asked for our client's driver's license and wrote out a ticket for him. He felt angry that he did not use the bar's restroom before he left the bar.
The next morning, he read the ticket more closely and did some research on the Internet about the punishment for violating Penal Code § 372 ("Public Nuisance"). He looked into the punishment for public urination, too, which some attorneys stated (incorrectly) involved a duty to register as a sex offender for life.
The client was confused and concerned about how serious the ticket really was. He called Greg Hill & Associates and spoke with Greg about the way the City of Hermosa Beach and the Torrance Courthouse handles such cases. Greg listened to the client's story and explained to him how such cases have been handled, but that there was a new program called AB 2124, a pilot program only available in Los Angeles County, that might help him get the case dismissed.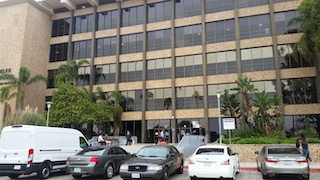 Torrance Courthouse
The client hired Greg Hill & Associates. Greg appeared at the arraignment in the Torrance Superior Court and then filed a motion for imposition of judicial diversion. Since our client had no prior criminal history and this offense was not disqualified from the list of offenses ruled ineligible (at Penal Code §§ 1001.94 to 1001.98), the Torrance judge assigned to the case granted the motion.
This was one of the first such motions granted in a public urination case in Torrance, so there was a healthy amount of concern by the judge that her ruling on this particular motion would obligate her to do so in the roughly 320 or so such cases filed every year arising out of Hermosa Beach tickets for public urination.
She struggled with the consequences of this and the Redondo Beach City Prosecutor, who handles the Hermosa Beach cases, urged her to deny the motion because of the precedent it would set. The Redondo Beach City Prosecutor argued that the judge should punish each person with a misdemeanor conviction and a fine of over $1,200, payable to the Los Angeles Superior Court, and require that each person attend 20 alcoholics anonymous meetings.
Greg argued that AB 2124 was designed to prevent such scarring convictions for low level offenders, as our client. It was designed by the legislature to reserve criminal convictions and their consequences with employment for more serious criminals. Moreover, Greg asked the judge to make our client pay a fine to the City of Hermosa Beach, not the Los Angeles Superior Court, so that the money could be allocated to building more public restrooms and including good lighting and signage.
The judge agreed and granted diversion to our client, ordering him to pay a fine of $600 directly to the City of Hermosa Beach. She then asked the prosecutor to ensure the City of Hermosa Beach understood such money was for more bathrooms for the public.
The client was happy with the outcome, knowing he would not have a conviction on his record and the case would be dismissed.
For more information about some of the issues raised in this case, click on the following articles:
AB 2124 – The New Pilot Program for Diversion of First-Time, Low Level Offenders in Los Angeles County Only
Watch our video about sex offenses by clicking
here
.
Contact us.