Hermosa Beach, Public Intoxication to Trespassing, Diversion
The Pier Plaza area of downtown Hermosa Beach caters to the sports fan who likes to have a beer (or two – or three) watching a game on a big screen TV. Some of the bars have over two dozen flat screen TV's, a wide variety of beers on tap, special prices on pitchers of beer, attractive waitresses and inexpensive appetizers. These comments are not meant to excuse anyone who drinks themselves into a stupor, but it is a perfect storm of sorts for public intoxication and public urination, as befell our client.
The Gist of This Article: Hermosa Beach Police arrest our client, age 26, for public intoxication after he allegedly urinates on a Pier Plaza tree in view of several people who report it to 911, and is observed obstructing people on Pier Plaza, a public thoroughfare. Client was not a U.S. citizen. Case resolved for trespassing in Torrance Superior Court.

Our client, age twenty-six, was watching a tape-delayed English Premier League soccer match in one of the well-known restaurant / bars on the Pier Plaza. He was there with friends from work, cheering on one team and just soaking in the atmosphere to relax. They had indeed purchased several pitchers of beer and appetizers over several hours.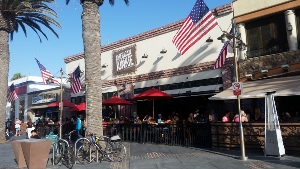 American Junkie Bar in Hermosa Beach
It was still early in the evening, only 9:30 p.m. or so, but our client needed to go home. The streets were filled with people, some just arriving for an evening out of the town.
As our client was walking to his car, he felt the need to urinate. He therefore walked up to a tree next to the sidewalk and street and simply began urinating there. Several people immediately used their cell phones to call 911. According to the police report, "several onlookers reported seeing the suspect's penis" as he was urinating.
Police arrived almost instantly and spoke to our client as well as the alleged witnesses. The police asked our client if he had urinated on the tree as a few people claimed. Our client denied doing so. The police noted a large wet area near the tree; however, this only suggested someone had indeed urinated there. There allegedly was also a stream of urine running downhill from the area. The officer further noted that our client had "the strong odor of alcohol."
Police arrested our client for public intoxication (Penal Code § 647(f)) based on a conclusion that he was so intoxicated by alcohol or drugs that he was unable to care for the safety or well-being of himself (by urinating in public as he did) or others and that due to his intoxication level, he was obstructing a thoroughfare (the sidewalk). The ticket also stated public urination, even though the police did not observe this taking place, as required by Penal Code § 836(a)(1).
The client was then taken to the police station, where he was booked and held until the next morning to let him "sober up" and "dry out."
About two months later, the client called Greg Hill & Associates, as his arraignment date was fast approaching. He spoke with Greg about the case facts and his immigration concerns, as he was here in the U.S. on a work visa. Greg explained that the best thing he could do would be of course was to have the case dismissed, but short of that, an infraction would be preferable to a plea to a misdemeanor, even if after such a plea, judgment was delayed as takes place with judicial diversion.
Greg explained, however, that with citations for two violations, rather than just one, it would be more difficult than usual to negotiate with the Redondo Beach City Prosecutor (who handles the Hermosa Beach misdemeanor cases) for an infraction. Greg then explained how judicial diversion worked with the client being afforded the opportunity to "earn a dismissal," after entering a plea, by paying certain fines and perhaps performing community service or going to classes, such as Alcoholic Anonymous (AA) meetings.
Greg then appeared at the arraignment and spoke with the Redondo Beach City Prosecutor handling the cases that day in the Torrance Superior Court arraignment department. The Redondo Beach City Prosecutor looked at the police report and exclaimed, "this is really bad – he showed his penis to people walking by." Greg corrected her, commenting that the police report only said "onlookers observed . . ."
The prosecutor then said she ought to amend the complaint to allege indecent exposure and Greg gently reminded her that to commit indecent exposure one must expose oneself with the intent to shock, annoy or arouse another person and that certainly did not happen in this case.
The prosecutor shot back, "but he was urinating in public," to which Greg gently commented that the officer did not observe this as is required under Penal Code § 836(a)(1) and the names and addresses of the witnesses were never taken.
Greg then asked if the prosecution would be willing to resolve the case for an infraction, given our client's immigration concerns. The prosecutor resisted, saying, "no, the case facts are too bad."
Greg then suggested amending the complaint to allege trespassing, Penal Code § 602(m), so that the client did not encounter immigration issues as a crime of moral turpitude with the public intoxication charge (Penal Code § 647(f)), as can occur when the allegation includes allegations of being intoxicated by drugs as the complaint did allege.
The prosecutor agreed to such an amendment. Greg then asked the judge to impose judicial diversion and the judge did so, allowing the client to "earn a dismissal" after one year as long as our client performed 60 hours of community service. The public urination and the public intoxication allegations were dismissed, leaving just the trespassing allegation, to which the client did plead "no contest," but was not convicted.
Our client was happy to avoid the immigration issues associated with a public intoxication charge and confident that he could perform sixty hours of community service to earn dismissal of the trespassing charge, too.
For more information about public intoxication and the issues raised in this case summary, please click on the following articles:
Contact us.