Hermosa Beach, Drunk in Public, Resolved for Trespassing
Our client, age 26, was arrested in Hermosa Beach after police were dispatched to the Chelsea Pub in downtown Hermosa Beach upon a report of a man antagonizing people walking by and standing in the middle of the street, unintentionally blocking traffic.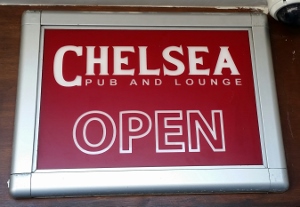 The Chelsea Pub in Hermosa Beach
Police arrived and did not find our client doing any of these things. However, they found our client sitting on the curb near the Chelsea Pub, straddling a puddle of vomit along the curbside. When asked who vomited, our client told police it was his.
In a Nutshell: Arrest for public intoxication (Penal Code § 647(f)) near Chelsea Pub in Hermosa Beach after police find our client straddling puddle of his own vomit and unable to tell police what city he was in. Client, age 26, had two prior alcohol-related convictions. Case resolved in Torrance Superior Court for trespassing.

Police began speaking with him and allegedly, our client could not tell the police what city he was in, could not find his cell phone and could not tell the police how he was going to get home. At this point, police arrested our client for public intoxication and took him to the Hermosa Beach Police Department for an alleged violation of Penal Code § 647(f), public intoxication.
Under Penal Code § 647(f), it is illegal for someone to be so intoxicated by alcohol or drugs, or a combination thereof, that he or she does one of two things. First, the person violates § 647(f) by obstructing those on a public thoroughfare, such as a road, a sidewalk, public stairs, etc. Second, the person is so intoxicated that he or she is unable to care for his own well-being. Arguably, our client met both these conditions.
Under Penal Code § 836(a)(1), an arrest for a misdemeanor must be based upon the officer observing the violation, subject to many exceptions. Here, none of the exceptions applied. The officers never observed our client obstructing traffic or heckling those passing by. However, they allegedly saw our client sitting down and being quite drunk and allegedly being unable to care for his own well-being.
After spending a night at the Hermosa Beach police department jail, the client called up Greg Hill & Associates about his arrest. He explained that he had two prior alcohol related offenses, one a DUI in 2010 in San Bernardino, and another conviction from Texas involving being a nuisance. He said he could not have a third such offense or he would lose his job.
Greg explained how he would attempt to negotiate the case to a resolution as an infraction for violating Penal Code § 415, disturbing the peace, or trespassing, Penal Code § 602(m). Greg further explained that if the prosecutor was aware of both of his prior convictions, he may not be able to get such a favorable disposition.
At the arraignment, Greg appeared in the Torrance Superior Court and reviewed the file materials. The Redondo Beach City Prosecutor handling the case for the City of Hermosa Beach was aware of our client's prior DUI, but had not read the client's criminal history thoroughly. She was unaware of our client's case from Texas, which was also described in the materials she had.
Greg became aware of this when he began discussing the case facts with her. He therefore suggested a resolution to disturbing the peace, which the prosecution rebuffed as too lenient because our client was quite drunk (at least drunk enough to vomit in public). Greg thus suggested a plea bargain to trespassing, Penal Code § 602(m), which the prosecutor agreed to, quite fortunately, yet not as an infraction.
The plea bargain did include thirty-six months of informal, or summary, probation, as well as a $150 court fee, plus penalties and assessments (about $515 total), and payment of the City of Hermosa Beach Booking Fee ($349).
The client was relieved to resolve the case without a conviction that suggested further alcohol use, which meant he would be able to keep his job. He was happy.
For more information about public intoxication, please click on the following articles:
Contact us.