Hermosa Beach, Drunk in Public, Reduced to Infraction
It was only about 8:45 p.m. Our client, age 33 and from Texas, had been watching the World Cup soccer matches (U.S. versus Cuba in particular) at a downtown Hermosa Beach bar. He had consumed many beers, but felt capable of walking back to his hotel, which was up on Pacific Coast Highway several blocks away.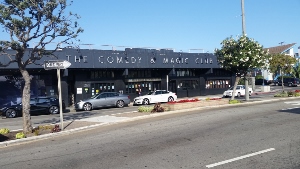 Busy Street in Hermosa Beach
Instead of walking toward his hotel, he walked out on the beach, stumbling around. With cell phones so prevalent, someone called the police to report an individual, apparently very drunk, walking around the beach. The Hermosa Beach Police responded quickly, most likely because they feared him drowning if he ventured into the ocean. They approached him and asked him if he had been drinking. He responded, "Absolutely."
Summary: Client arrested for public intoxication after witnesses allegedly reported him stumbling around on the sand near the Hermosa Beach Pier. Client from Texas and returned there after being released from custody. Case resolved for an infraction for disturbing the peace with the misdemeanor public intoxication charge dismissed.

They asked him where he was heading and he described the Holiday Inn, a good half mile away up Pier Avenue and then off Pacific Coast Highway.
The police realized they need to take him into custody for his own safety because if left to his own judgment, he might stumble in front of a car or pass out on the way to the hotel, if he ever figured out how to get there.
They did not, it should be noted, take him to the cab pick-up area and assist him in getting into a cab to the Holiday Inn. Instead, they arrested him. After all, Hermosa Beach is not like other areas.
Our client was held at the Hermosa Beach City Jail until he sobered up the following morning. He was booked and assigned to a cell. He was ultimately released the next morning out the front door.
The client then returned to home in Texas, from which he called Greg Hill & Associates. He spoke with Greg about his memorable visit to Hermosa Beach and his souvenir, a Notice to Appear in court in about two weeks. Greg listened to the client describe the events of the night and how he had a prior public intoxication conviction from Arizona five years earlier.
Greg explained to the client that he hoped the prior conviction did not show up on the client's criminal history because if it did not, it was possible that the case could be resolved by judicial diversion. This program, codified for Los Angeles County judge only, allowed such judges to place a defendant on judicial diversion and allow them to "earn a dismissal" by completing certain tasks that the judge decided to be fulfilled over a period of up to one year.
Unfortunately, when Greg did appear in the Torrance courthouse for the client at the arraignment, the prior conviction was revealed on the client's criminal history, disqualifying him from being eligible for judicial diversion.
However, the Redondo Beach City Prosecutor, handing the cases for Hermosa Beach, offered to amend the complaint to allege an infraction-level offense of violating Penal Code § 415(2) if the client attended 30 Alcoholic Anonymous (AA) meetings, paid a $349 booking fee to the City of Hermosa Beach and paid made a $150 contribution to the Hermosa Beach Nuisance Abatement Fund.
The client eagerly agreed to such terms to avoid a misdemeanor conviction for a second public intoxication offense. He then quickly attended the 30 AA meetings and gave Greg Hill & Associates checks to then deliver to the Hermosa Beach City Hall to fulfill his financial obligations.
Greg then appeared back in the Torrance court and showed the Redondo Beach City Prosecutor the proof of fulfilling the requirements of her deal. She then fulfilled her promise and amended the complaint to allege an infraction level violation of Penal Code § 415(2), to which Greg entered a no-contest plea.
The misdemeanor count of violating Penal Code § 647(f) was dismissed. The client was quite happy with this resolution.
For more information about public intoxication, please click on the following articles:
Contact us.