Gardena, 2nd Time DUI, Had GERD, Resolved As Wet Reckless
Our client was on probation for a prior DUI out of Bellflower Superior Court when he was stopped again for DUI in Gardena.
Our client had been at a nightclub on Rosecrans Avenue, just east of Crenshaw Boulevard. As he was exiting the parking lot, he entered Rosecrans and turned right. Little did he know it, but behind him was a police officer. As our client turned onto Rosecrans, he over-corrected in his steering, which caught the eye of the officer. Moreover, it was 1:30 a.m. and our client was exiting a night club.
In a Nutshell: Client on DUI probation arrested for second DUI in Gardena. He gives police his brother's name as his own and police catch this. Case resolved for wet reckless in Torrance court after Greg shows prosecutor that client suffered from GERD, making his breath test results less reliable.
The officer turned on his overhead flashing lights, but our client seemed to ignore them and kept driving east toward the Harbor Freeway. He even stopped at a traffic light, but then kept going.
Once he got to Western Avenue, he must have realized he was being followed by a police car with its flashing lights, so he decided to try to cut through an abandoned gas station on a corner lot to go south on Western. As he did so, the police used the public address (PA) system to instruct our client to stop.

Once he did stop, he gave the police officer his name as his brother's name, as well as his brother's date of birth. The police officer went back to his car and used his computer to run the name. It came back as a person two inches shorter than our client and 75 pounds lighter. The police officer questioned him more about his identify and finally, our client admitted who he was, saying his brother always did the same thing to him whenever he was arrested.
The police officer then asked our client if he was on probation and he said he was not.
The police then took our client to the Gardena Police Station. During the time he was in the police car, according to the police report, he tried to put gum in his mouth to delay the time at which he could have his breath tested.
Finally, our client did submit to a breath test at the station and it measured 0.08% and 0.09%.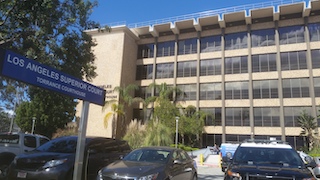 Torrance Courthouse
The client initially opted to have the public defender represent him on charges of DUI and giving false information to a police officer, Penal Code § 148.9(a), a misdemeanor. Because he was still on probation for the prior DUI and there was the giving false information to a police officer, the prosecution was unwilling to amend the complaint to add a charge of reckless driving, Vehicle Code § 23103, as may have otherwise been offered if it were a first-time DUI.
The client then called Greg Hill & Associates and spoke to Greg. As with any case that involves just a breath test, Greg asked the client many questions about his lungs, if he had both lungs, if he had false teeth, if he had GERD (gastroesophageal reflux disease – like heartburn), if he was diabetic, if he was asthmatic and other questions as well. The client told Greg he often had indigestion and heart burn.
Greg suggested that the client undergo a test to see if he did have GERD. The client did so and his doctor diagnosed him with GERD. The doctor then wrote a report stating his diagnosis.
Greg then gave the report to the handling district attorney on the case, who did not know what GERD was or how it would affect one's blood alcohol content (BAC). Greg explained this to her and asked to speak to her supervisor.
After several more court appearances, the supervising attorney graciously agreed to allow our client to plead to an amended charge of reckless driving. The charges of DUI would be dismissed. This was a very good thing for our client because he would not have the ignition interlock (IID) requirement as he otherwise would have if he had pled to a DUI.
The terms of the plea bargain were otherwise just as if it was a DUI. The client was ordered to five years of summary probation, conditioned upon his enrolling in and completing an SB38 alcohol awareness program (18 months), performing one day of Cal-Trans and paying the City of Gardena booking fee ($250). The client had served twenty days in county jail already, which satisfied the court fees ($500), plus penalties and assessments (about $1,900 more), and the 96 hours of county jail that must be served as a minimum with any second time DUI.
The client was quite happy with this result.
For more information about the issues in this DUI case, please click on the following articles:
Contact us.