Federal Motion to Vacate Sentence Denial Affirmed
The Sixth Amendment guarantees the accused "[i]n all criminal prosecutions" the right to "the Assistance of Counsel for his defense." Traditionally, this has been interpreted to mean that the right to counsel attaches when a criminal defendant is formally charged. See Kirby v. Illinois (1972) 406 U.S. 682, 688-689; United States v. Hayes (9th Cir., 2000) 231 F.3d 663, 669-670 (en banc).

The right to counsel means not merely a right to the services of an attorney, but a right to "reasonably effective" assistance of counsel. Strickland v. Washington (1984) 466 U.S. 668, 687-688. Effective assistance generally requires a defendant's counsel to "inform a defendant of the advantages and disadvantages of a plea agreement." Liberetti v. United States (1995) 516 U.S. 29, 50.
In a Nutshell: There is no Sixth Amendment right to effective assistance of counsel prior to the filing of a charging document in federal court, so a motion to vacate a sentence in federal court based on ineffective assistance of counsel was denied because no such right exists, despite a federal public defender being assigned to defendant and efforts being made to resolve the case pre-indictment.

The following article involves a common situation in federal court wherein a suspect resolves a case prior to being formally accused. The defendant later seeks to vacate his sentence under 28 U.S.C. § 2255 based on a claim of ineffective assistance of counsel during plea negotiations. The case involves a defendant living in Nevada, but nonetheless involves U.S. Ninth Circuit law, which covers California.
In June 2012, federal prosecutors sent Gregory Olson a "target letter" advising him that he was a target of a federal grand jury investigation. The letter invited Olson to "have [his] attorney contact" the U.S. Attorney's office if he was "interested in resolving this matter short of an Indictment." The letter also advised him to contact a court clerk for the District Court of Nevada if he could not afford an attorney. Finally, the letter set a deadline of one month for him to contact the prosecutor or else the matter would "proceed in the ordinary course of prosecution."
Olson contacted the court clerk and an assistant federal public defender was assigned to represent him. Shortly thereafter, prosecutors conveyed an offer that Olson would only plea to tax evasion and prosecutors promised to recommend a sentence at the lower end of the guideline range, which would most likely be 30 months.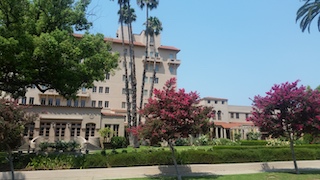 U.S. Ninth Circuit Court of Appeals Pasadena
Olson rejected this offer, as he wanted a purely probationary sentence instead and fired his public defender. One week later, a grand jury indicted Olson for wire fraud and tax evasion.
Olson then hired a private attorney and entered into a plea bargain to both wire fraud and tax evasion. The district court sentenced him to 48 months in custody and 3 years of supervised release.
Olson then went off to federal prison. Two years later, he filed a pro se (acting as his own attorney) motion to vacate his sentence under 28 U.S.C. § 2255. He argued a Sixth Amendment violation for ineffective assistance of counsel for the assistant federal public defender during pre-indictment plea negotiations.

The district court denied Olson's motion to vacate his conviction, concluding under binding precedent, "Olson did not have a Sixth Amendment right to effective counsel during the pre-indictment plea negotiation." The district court, however, did grant a certificate of appealability, however, after noting that four judges on the Sixth Circuit had dissented in a similar case, Turner v. United States (6th Cir. 2018) 885 F.3d 949, 977-84 (en banc).
The United States Court of Appeal for the Ninth Circuit then appointed counsel for Olson and agreed to reconsider the bright-line rule adopted in Hayes, supra.
The court's analysis is worth understanding because nowadays, there is a trend toward making a good effort at pre-indictment resolution, causing reason to reconsider whether Kirby, supra, a 1972 case, and Hayes, supra, a 2000 case, merit being overruled, clarified or just qualified as being limited to their facts.
The court began its analysis by noting that in Kirby, a plurality of the U.S. Supreme Court described the Court's past cases as "firmly establish[ing] that a person's Sixth and Fourteenth Amendment right to counsel attaches only at or after the time that adversary judicial proceedings have been initiated against him." Kirby, supra, at 688. In subsequent cases, majorities of the Supreme Court have confirmed that "the right to counsel does not attach until the initiation of adversary judicial proceedings." United States v. Gouveia (1984) 467 U.S. 180, 188; Moran v. Burbine (1986) 475 U.S. 412, 431.
The court noted that the circuits have not agreed on whether the Kirby line of cases mandate a "bright-line rule" holding that the right to counsel never attaches until formal charges have been initiated "by way of formal charge, preliminary hearing, indictment, information or arraignment." Kirby, 406 U.S. at 689.
However, in Hayes, the Ninth Circuit adopted a bright-line rule. Id. at 675; see also United States v. Percy (9th Cir., 2001) 250 F.3d 720, 725 ("This Circuit adheres to the bright-line rule that the Sixth Amendment's right to counsel attaches upon the initiation of formal charges." (citing Hayes)). The Ninth Circuit then noted that it may not overrule a prior decision of this court unless a higher authority has effectively overruled such a decision.

Therefore, the Ninth Circuit affirmed the district court and further noted that Olson's counsel was not ineffective anyways.
We bring this summary to the reader's attention because there seems to be a presumption that if one alleges ineffective assistance of counsel, it is so because there is such skepticism in general of criminal defense attorneys. This case pushes back on that seemingly easy argument in two ways, which the reader should understand before making such a claim.
The citation for the U.S. Court of Appeals for the Ninth Circuit ruling discussed above is United States v. Gregory J. Olson (9th Cir., 2021) Fed. 3d "

For more information about the right to counsel, please click on the following articles: