East Los Angeles, Prostitution, Diversion & Dismissal
Our client, age 39, was driving home along Atlantic Avenue in Cudahy through an area commonly frequented by prostitutes. It was about 4:00 p.m. and a weekday. It was winter time, so the sun was low on the horizon and it would be dark early. Our client had no prior criminal history, but this was about to change.
Overview: Cudahy arrest off Atlantic Avenue, client offers to pay decoy police officer for oral sex, case dismissed after diversion.

Our client took the fateful step of stopping at a "spa" for a massage. Once inside the business, a female posing as a spa employee directed our client to a nearby room. Our client was unaware that this person was actually a police officer from the Los Angeles Sheriff's Department, Major Crimes Bureau's Vice Detail, acting as part of a sting operation at this particular spa. Our client went into the room. A different police officer, also female, then entered the room posing as a masseuse.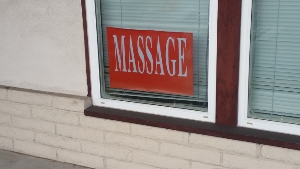 The police officer then bluntly asked our client if he was there for sex and our client candidly stated he was. The decoy then asked if he wanted a "suck or fuck," to which our client explained he only had $50. The decoy then agreed to orally copulate him, but stated she first needed to leave the room. Little known to our client, of course, was that this quick conversation was fully recorded and monitored as well by several officers sitting in the room next door.
When the "masseuse" returned, she brought with her three uniformed police officers, to our client's horror. Our client already had his clothes off and was laying on the massage table, eagerly awaiting the return of the masseuse. Our client was then handcuffed and taken to a separate room, where he sat with several other embarrassed men handcuffed and sitting there for the same offense.
After a short time, our client was loaded into a small bus and taken with the other men – about fifteen – to the police station.
Our client then was fingerprinted and his picture was taken. It was not something one would want anyone else to see. He was then released after about three hours with a signed agreement to appear in the East Los Angeles Superior Court in about two months. He did not have to post bail in order to be released.
Our client was very nervous, as he and his wife were applying to adopt a child due to his wife's infertility. He was certain that his chances of adoption were doomed if the adoption agency did a background check on him and found this arrest, since he was booked.
He was also quite concerned about losing his job if a periodic background check revealed this arrest and any conviction.
He then called Greg Hill & Associates and spoke with Greg Hill, explaining what happened and his concerns. Greg listened and explained what his experiences had been in the East Los Angeles Courthouse handling the same type of offense over the last few years. Greg also explained the ways such cases were resolved, usually with a form of diversion, but cautioned that "past is not always prologue," so Greg could not guarantee such a similar result because prosecutors do change and the ways a DA's office handles certain cases do change over time.
Greg Hill then appeared in the East Los Angeles Superior Court on the scheduled date for the arraignment. While our client had no prior record of any kind, the District Attorney handling his case wanted a conviction for violation Penal Code § 647(b), "Solicitation for Prostitution."
Greg had to plead in the open with the judge, rather than deal with the handling prosecutor, a young lady who seemed callous to the equities involved. The judge was more sympathetic and allowed our client to "earn a dismissal" by performing ten days of community service.
Even with this deal, the prosecutor complained loudly, insisting upon community labor, which is more physically demanding than community service and often involves cleaning up human feces from homeless people under freeway overpasses and in homeless camps. The judge, however, was not swayed.
Our client then did perform the ten days of community service and the case was dismissed. He was happy. Had he not retained counsel, he would have suffered a conviction for solicitation of prostitution, perhaps erasing his family's hopes of adoption.
For more information about sex offenses and prostitution in specific, click on the following articles:
Watch our video about sex offenses by clicking
here
.
Contact us.