DUI, Speeding 85 MPH on Harbor Freeway, Metro Court
Our client, age 28, had been at a Dodger game with his girlfriend that started in the late afternoon. At about 10:00 P.M., he was driving home with her to their home in Torrance.
Condensed Version of the Case: Client observed allegedly speeding at 85 miles per hour on southbound I-110 (Harbor Freeway). His breath sample measured at 0.10% and 0.09% BAC. DUI case filed in the Metro Court and resolved for exhibition of speed (Vehicle Code § 23109).
He had consumed two large beers at the game over several hours. As he was driving southbound in the leftmost HOV (carpool) lane, a car made an illegal lane change into the carpool lanes, crossing over the double, double yellow lanes meant to prevent such dangerous intrusion of slow-moving vehicles into faster-moving traffic. Our client had no alternative but to slam on his brakes and change lanes to the left to avoid rear-ending him. It was an emergency.
After he changed lanes to the left, our client became a hazard to other HOV traffic to his rear. Such traffic could rear-end him and cause an accident.
Our client thus hit the accelerator hard and sped up. A CHP officer to his rear merely saw our client change lanes to the left and then accelerate to 85 miles per hour. The CHP officer claimed to never see the illegal lane change by the other car.
The CHP officers then paced our client's car at 85 miles per hour in the 65 mile per hour zone. This took place near the Century Boulevard exit. The CHP officer then activated his flashing overhead lights and pulled behind our client. The CHP report noted that this took place at 10:00 p.m.
Our client observed the CHP vehicle to his rear with its overhead lights illuminated. He then pulled off the 110 southbound at Rosecrans Avenue. After pulling off the freeway, he went west a few blocks and then north on a side street. He then came to a stop.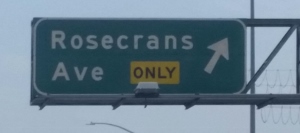 At about 10:03 p.m. the CHP officer first came into face-to-face contact with our client. At 10:15 p.m., the officer administered the Preliminary Alcohol Screening (PAS) test. This was without continually observing our client for a full fifteen minutes as required by Title 17, section 1219.3, the PAS manufacturer's guidelines and Sandra Molenda v. DMV (2009, 6th App. Dist.) 172 Cal. App. 4th 974. The PAS device measured our client's blood alcohol content (BAC) at .10% and 0.09% by weight.
Our client was promptly arrested and taken to the LAPD's 77th Street Station, where he submitted to a second breath alcohol test. In this second test, his BAC was measured at .08% and .08%. He was then held for another three hours, before being released after signing a promise to appear at the Metropolitan courthouse in about three months for his arraignment.
At the arraignment, the Los Angeles City Attorney's office charged our client with violations of Vehicle Code § 23152(a) and § 23152(b), both misdemeanors. Greg appeared for the arraignment and discussed the problems with the PAS test being administered too soon, making its measurements vulnerable to attack.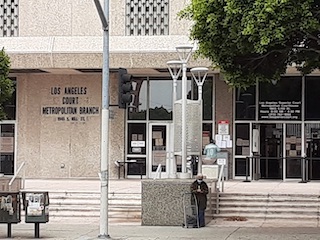 Metro Courthouse
Greg and the City Attorney discussed how long it would take for our client's car to drive, even at 85 miles per hour, from Century Boulevard southbound to Rosecrans Boulevard, exit, and then drive westbound several blocks and then turn and come to a stop. The City Attorney agreed with Greg that this would take at a minimum, three minutes.
Greg also explained to the City Attorney how our client had to make evasive maneuvers to avoid the other car making an illegal lane change into the HOV lane. He explained how our client had slammed on his brakes and made a lane change out of duress and necessity to avoid injury to himself and his girlfriend. He then had to accelerate quickly to avoid a collision, no longer to his front, but from the rear.
The City Attorney understood and offered to amend the Complaint to allege a violation of Vehicle Code § 23109, unlawful exhibition of speed. The terms of the plea bargain were that our client would be placed on two years of summary probation and pay a court fine of $240, plus penalties and assessments, which would total perhaps $1,050, or perform seven days of community labor.
This disposition was agreeable to our client, who would avoid having to take any alcohol awareness program by court order and would avoid an order by the DMV (due to a conviction for DUI) to install an ignition interlock device (IID). The fine was also perhaps $900 lower than in a DUI and the probation was a year less.
The client accepted the plea bargain, relieved that the DUI charges would dismissed as well.
For more information about DUI, please click on the following articles:
Contact us.