Downey, Shoplifting $41 at Target, Fight, DA Diversion
Our client, age 41, was heading to a birthday party for his daughter. He decided to stop by Target in Downey to buy a few food items, as well as a few other things. As he was walking down the aisle containing children's sandals, he grabbed a pair of sandals and put them in his pants pockets. Store security observed this, as well as when he later took two small toys and put them in his shirt pockets.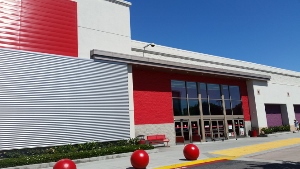 Target Store
He proceeded through the self-check out registers and paid for the food items, but not the sandals in his pockets or the two small toys.
He then exited the Target and proceeded towards his car, but not before two plain clothes loss prevention officers approached him. When they got close, they ordered him to stop.
Condensed Version of This Case: Client shoplifting a pair of sandals and two small toys worth a total of $41 from the Downey Target for his son's birthday. Loss prevention and he fight outside the store. Case resolved with DA diversion wherein the client earned a dismissal after performing 40 hours of community service and attending five anger management classes.

Our client, not recognizing the two men as security officers because they were not wearing uniforms, told them "no" and kept walking. The men repeated their command, but our client told them to "fuck off."
One of the men them grabbed our client's arm. Our client spun around and pushed the man away. Our client, who stood just five feet, two inches tall, but weighed nearly 300 pounds, was able to knock the other man to the ground. The other man present then tackled our client and, only then, accused him of shoplifting.
Meanwhile, the first loss prevention officer got up and then two men laid on top of our client, who was struggling violently. Photographs in the police report showed the first man skinned up his knees, elbows and knuckles, while the second man skinned both of his elbows.
The Downey Police later arrived and arrested our client for shoplifting (Penal Code § 484(a)) and battery (Penal Code § 242). Our client had to post a bail bond of $20,000 to be released.
The incident was extremely troubling for our client. Ironically, after all, he was a security guard and he not only shoplifted, but fought with the loss prevention officers. Moreover, he was only attempted to steal about $15 in merchandise, which some prosecutors and judges consider evidence that he regularly steals at will, but without consequence.
The client contacted Greg Hill & Associates and immediately spoke with Greg Hill. Greg explained that because the client had no prior history and the matter did not involve any of the excluded misdemeanor offenses, he would be eligible for judicial diversion under Penal Code §§ 1001.94 to 1001.98.
However, such a decision remains up to the discretion of the judge and due to the adverse facts, one would expect the prosecutor to vigorously oppose judicial diversion.
Greg then appeared in the Downey Superior Court at the arraignment for the client. The client stayed at work. As expected, the prosecutor was quite adamant that our client deserved three years of summary probation and 100 hours of community service, as well as must pay court fees of $300, plus penalties and assessments. Greg could see that the prosecutor was emotional and eager to engage in a discussion about the case. Greg could also sense that the prosecutor was only going to defend her position.
So instead of indulging her, Greg continued the arraignment and left, hoping that on the next court appearance a different prosecutor would be present.
Four weeks later, at the continued arraignment, there indeed was an older, male prosecutor who seemed more interested in resolving the case. Greg started the conversation asking if he would be opposed to judicial diversion and the prosecutor, in contrast to the earlier prosecutor, said no. Greg then proposed 40 hours of community service and five anger management classes. The prosecutor shrugged and said "sure."
Greg then made an oral motion for imposition of judicial diversion. The judge responded by asking the prosecutor if he'd be opposed to DA diversion, which was even better for our client because he would not be required to enter a no contest plea.
The prosecutor replied to the judge that he would not be opposed to DA diversion. The judge then asked him what terms were agreed upon and the DA explained the terms.
Greg then accepted such a deal on behalf of the client. He later revealed the court proceedings of the continued arraignment. The client was relieved that Greg had handled the initial arraignment as he had, using his experience with prior overzealous prosecutors.
The client was especially grateful that his Livescan would not show a "no contest" plea to shoplifting and battery. Instead, after the client completed the community service and anger management classes, his Livescan would simply show the case was dismissed, suggesting a mistaken arrest and innocence.
For more information about shoplifting and diversion, please click on the following articles:
Contact us.